About Satellite Observation Research Project
Since FY 2016, the National Institute for Environmental Studies (NIES) has been conducting the "Satellite Observation Research Project" as one of research projects which are defined as "research activities which require systematic and programmatic approaches". It includes two satellite projects jointly promoted by the Ministry of the Environment (MOE) and Japan Aerospace Exploration Agency (JAXA), namely GOSAT (Greenhouse gases Observing SATellite, or Ibuki) and GOSAT-2.
The objectives of the "Satellite Observation Research Project" are
to continue the global observation of greenhouse gases and other atmospheric components using satellites,
to contribute to enhancing the scientific understanding of the global carbon cycle and spatial distribution of related materials and to improving the projections of future climate change,
to develop methodologies regarding verification of country-level emission inventories for greenhouse gases and particulate matters, and
to contribute to climate change related policies of MOE.
About Satellite Observation Center (SOC)
In April 2016, the Satellite Observation Center (SOC) was established in the Center for Global Environmental Research (CGER), NIES, as an organization which is responsible for the "Satellite Observation Research Project".
The organizational structure of SOC as of April 2016 is as follows: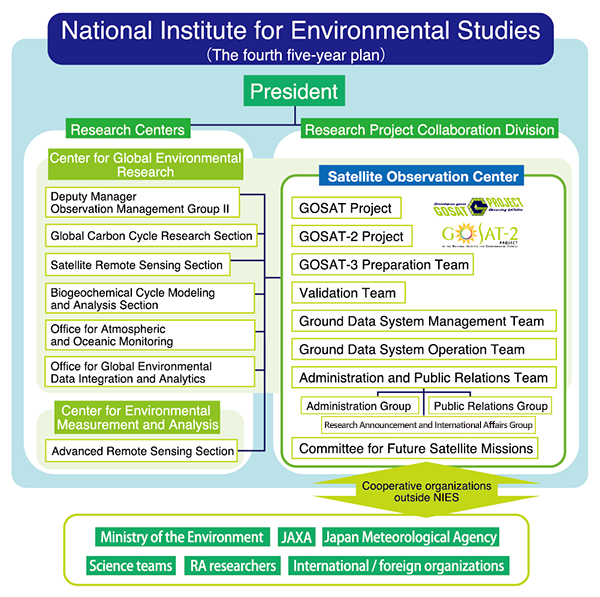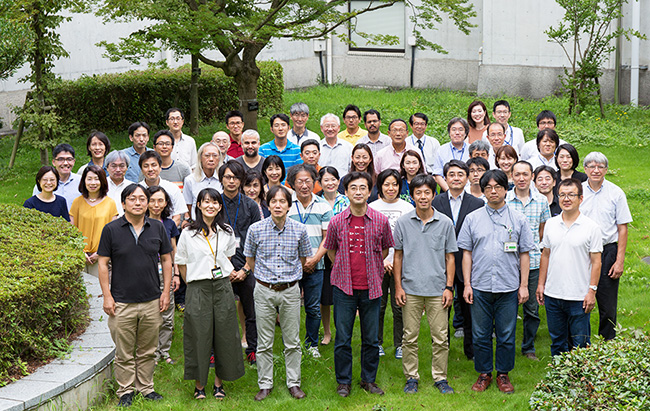 Group Photo of SOC members(August, 2016)
Satellite Observation Center
Director Tsuneo Matsunaga
GOSAT Project
GOSAT-2 Project
Validation Team
Ground Data System Management Team
Ground Data System Operation Team
Administration and Public Relations Team
Administration Group
Public Relations Group
Research Announcement and International Affairs Group
GOSAT-3 Preparation Team
Committee for Future Satellite Missions