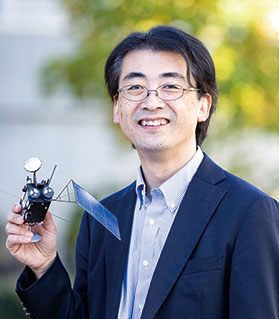 My name is Tsuneo Matsunaga. I have served as Director of Satellite Observation Center since fiscal year 2016.
The Center is currently promoting GOSAT Project, GOSAT-2 Project, and GOSAT-GW Project. These projects are mainly conducting the development and operation of two ground systems, GOSAT DHF for operational processing of GOSAT data and G2DPS for GOSAT-2 data, as well as validation for the products of these two satellites and other various studies.
The Center takes charge of Science Team organized by related researchers in Japan and a secretariat for Research Announcement on Greenhouse Gases Observing Satellite Series targeting researchers at home and abroad.In addition, we have commenced the development of GOSAT-GW, a successor to GOSAT-2, in cooperation with the Ministry of the Environment and the Japan Aerospace Exploration Agency.
We appreciate your continued support and cooperation.