Latest Update:2018/12/06 07:26:41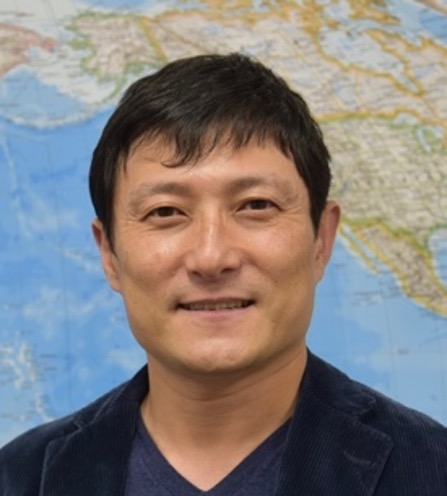 Researcher Name

TANIMOTO Hiroshi
Div (Section) name/title

Center for Global Environmental Research(Global Atmospheric Chemistry Section)/Head
Research Subject

Global atmospheric chemistry
Degree(s)

Ph.D.
Professional Qualification(s)

Chemistry,Physics,Earth Science
Environmental Speciality Field

global environment,air pollution,climate change
Brief Description of Research

* Air quality in Asia: Tropospheric ozone and its precursors
* Proton Transfer Reaction - Mass Spectrometry (PTR-MS)
* Biomass burning in Siberia: Emissions and environmental impacts
* Monitoring of reactive trace gases and aerosols
* Standardization of trace gases for atmospheric chemistry
* Interaction of climate change with air quality
Career

Apr. 2011 - Present: Head, NIES/CGER, Global Atmospheric Chemistry Section
Jun. 2010 - Mar. 2011: Head, NIES/AED, Atmospheric Chemistry Section
Apr. 2006 - May 2010: Sen. Res. Sci., NIES/AERG, Reg. Atmos. Model. Sec.
Apr. 2005 - Mar. 2006: Sen. Res. Sci., NIES/AED, Atmos. Chem. Reac. Sec.
Apr. 2001 - Mar. 2005: Res. Sci., NIES/AED, Atmos. Chem. Reac. Sec.
Membership of Academic Society

The Japan Society of Atmospheric Chemistry,The Geochemical Society of Japan,American Geophysical Union,Japanese Society for Atmospheric Environment
Research Subject

Fiscal Year: 2018

24291 : Study on multi-scale evaluation system for GHG variation and mitigation
24315 : Long-term monitoring and database for global environmental research and supporting for related activities
24340 : Climate Change Strategy Collaboration Office
24368 : Global observations of volatile organic compounds dissolved in surface seawater with a novel mass spectrometry
24442 : Quality control for ozone measurement scale in Japan
24578 : Atmospheric and Oceanic Monitoring

Fiscal Year: 2017

23837 : Study on multi-scale evaluation system for GHG variation and mitigation
23861 : Climate Change Strategy Collaboration Office
23877 : Long-term monitoring and database for global environmental research and supporting for related activities
24048 : Global observations of volatile organic compounds dissolved in surface seawater with a novel mass spectrometry
24146 : Atmospheric and Oceanic Monitoring
24168 : Quality control for ozone measurement scale in Japan

Fiscal Year: 2016

23399 : Study on multi-scale evaluation system for GHG variation and mitigation
23470 : Long-term monitoring and database for global environmental research and supporting for related activities
23698 : Studies on evolution of aerosols by oligomerization after uptake of gases on aerosols
23731 : Quality control for ozone measurement scale in Japan
23735 : Atmospheric and Oceanic Monitoring
23749 : Global observations of volatile organic compounds dissolved in surface seawater with a novel mass spectrometry

Fiscal Year: 2015

22992 : Study on characteristics of GHG in the atmosphere and outlook of their future concentration
23004 : Evaluation of multi-scale air pollution by integration of observation and model
23026 : Long-term monitoring and database for global environmental research and supporting for related activities
23115 : Development of the PM2.5 warning method with the combination of observations and numerical forecasts
23165 : Studies on evolution of aerosols by oligomerization after uptake of gases on aerosols
23190 : Atmospheric and Oceanic Monitoring
23336 : Quality controle for ozone measurement scale in Japan

Fiscal Year: 2014

22580 : Study on characteristics of GHG in the atmosphere and outlook of their future concentration
22592 : Evaluation of multi-scale air pollution by integration of observation and model
22614 : Long-term monitoring and database for global environmental research and supporting for related activities
22628 : International working group in Pan-Asia for global atmospheric chemistry research
22676 : Long-term, comprehensive observations of long-lived greenhouse gases and short-lived climate forcers in Asia and Oceania regions
22856 : Development of the PM2.5 warning method with the combination of observations and numerical forecasts
22920 : Atmospheric and Oceanic Monitoring
22963 : Studies on evolution of aerosols by oligomerization after uptake of gases on aerosols

Fiscal Year: 2013

22164 : Study on characteristics of GHG in the atmosphere and outlook of their future concentration
22176 : Evaluation of multi-scale air pollution by integration of observation and model
22198 : Long-term monitoring and database for global environmental research and supporting for related activities
22260 : In situ observations of ozone and aerosol for refinement of atmospheric chemistry transport model in East Asia (observations of NOx and VOCs)
22261 : Development of a novel technique for high-resolution measurement of DMS and VOCs in seawater
22262 : Long-term, comprehensive observations of long-lived greenhouse gases and short-lived climate forcers in Asia and Oceania regions
22379 : Atmospheric and Oceanic Monitoring
22430 : Time-resolved measurement of organic components during the formation of secondary organic compounds by chemical ionization mass spectrometry
22464 : Development of the PM2.5 warning method with the combination of observations and numerical forecasts

Fiscal Year: 2012

21735 : Study on characteristics of GHG in the atmosphere and outlook of their future concentration
21747 : Evaluation of multi-scale air pollution by integration of observation and model
21769 : Long-term Monitoring and database for Global Environmental Research and supporting for related activities
21782 : In situ observations of ozone and aerosol for refinement of atmospheric chemistry transport model in East Asia (observations of NOx and VOCs)
21783 : Measuring DMS and VOC flux at the ocean-atmosphere interface and evaluation of gas transfer coefficient
21784 : Development of a novel technique for high-resolution measurement of DMS and VOCs in seawater
21788 : Long-term, comprehensive observations of long-lived greenhouse gases and short-lived climate forcers in Asia and Oceania regions
21969 : Study on traceability of ozone meansurement in Japan
22118 : Atmospheric and Oceanic Monitoring
22146 : Time-resolved measurement of organic components during the formation of secondary organic compounds by chemical ionization mass spectrometry

Fiscal Year: 2011

21284 : Study on characteristics of GHG in the atmosphere and outlook of their future concentration
21305 : Evaluation of multi-scale air pollution by integration of observation and model
21327 : Long-term Monitoring and database for Global Environmental Research and supporting for related activities
21483 : Study on long term observation of trace greenhouse gases in the Asia-Oceania regions
21485 : In situ observations of ozone and aerosol for refinement of atmospheric chemistry transport model in East Asia (observations of NOx and VOCs)
21487 : Measuring DMS and VOC flux at the ocean-atmosphere interface and evaluation of gas transfer coefficient
21488 : Development of a novel technique for high-resolution measurement of DMS and VOCs in seawater
21495 : Real-time measurement of nitro organic compounds in diesel vehicle exhaust gases by using PTR-TOFMS
21496 : Field measurements of nitrated organic compounds emitted from the vehicle exhaust
21586 : Study on traceability of ozone meansurement in Japan
21595 : Atmospheric and Oceanic Monitoring

Fiscal Year: 2010

20877 : Development of Evaluation Methods of Atmospheric Environment in Asia
20890 : Study on long term observation of trace greenhouse gases in the Asia-Oceania regions
20891 : In situ observations of ozone and aerosol for refinement of atmospheric chemistry transport model in East Asia (observations of NOx and VOCs)
20917 : Novel proton transfer reaction-mass spectrometry by using protonated molecules as a primary ion
20919 : Real-time measurement of nitro organic compounds in diesel vehicle exhaust gases by using PTR-TOFMS
21092 : Study on long-term variation mechanisms of greenhouse gas concentrations and their regional characteristics
21227 : Atmospheric and Oceanic Monitoring
21235 : Study on traceability of ozone meansurement in Japan
21263 : Field measurements of nitrated organic compounds emitted from the vehicle exhaust

Fiscal Year: 2009

20424 : Development of Evaluation Methods of Atmospheric Environment in Asia
20492 : Novel proton transfer reaction-mass spectrometry by using protonated molecules as a primary ion
20608 : Study on long-term variation mechanisms of greenhouse gas concentrations and their regional characteristics
20617 : Atmospheric and Oceanic Monitoring
20714 : Study on long term observation of trace greenhouse gases in the Asia-Oceania Regions
20729 : Development for monitoring technology related to global warming
20766 : Real-time measurement of nitro organic compounds in diesel vehicle exhaust gases by using PTR-TOFMS

Fiscal Year: 2008

20126 : Development of Evaluation Methods of Atmospheric Environment in Asia
20156 : Novel proton transfer reaction-mass spectrometry by using protonated molecules as a primary ion
20307 : Study on long-term variation mechanisms of greenhouse gas concentrations and their regional characteristics
20334 : Atmospheric and Oceanic Monitoring
20350 : Study on long term observation of trace greenhouse gases in the Asia-Oceania Regions

Fiscal Year: 2007

10376 : Atmospheric and Oceanic Monitoring
10426 : Spatio-temporal variability and climate effect of ozone and black carbon in Asia
10511 : Development of a proton transfer reaction - time-of-flight mass spectrometer for real-time measurement of volatile organic compounds
10574 : Study on long-term variation mechanisms of greenhouse gas concentrations and their regional characteristics
10586 : Development of Evaluation Methods of Atmospheric Environment in Asia

Fiscal Year: 2006

10023 : Atmospheric and Oceanic Monitoring
10067 : Distribution and sources of non-CO2 greenhouse gases in the Western Pacific
10151 : Spatio-temporal variability and climate effect of ozone and black carbon in Asia
10251 : Development of a proton transfer reaction - time-of-flight mass spectrometer for real-time measurement of volatile organic compounds
10307 : Study on long-term variation mechanisms of greenhouse gas concentrations and their regional characteristics
10319 : Development of Evaluation Methods of Atmospheric Environment in Asia

Fiscal Year: 2005

9328 : Global Environmental Monitoring
9403 : International collaborative studies on a wide-area air pollution of continental scale
9490 : Estimation of the relative emission strengths from East Asia basen on the short-term vaiations of atmospheric trace gases observed at Hateruma and Ochi-ishi monitoring stations
9504 : A feasibility study on the linkage of regional climate change with intra-seasonal and inter-annual variations of ozone and its precursors over Japan
9505 : Development of a novel mass spectrometric technique for real time detection of volatile and semi-volatile organic compounds in air
9538 : Distribution and sources of non-CO2 greenhouse gases in the Western Pacific
9566 : Study on dynamics of air pollution in East Asia

Fiscal Year: 2004

8935 : Global Environmental Monitoring
9038 : International collaborative studies on a wide-area air pollution of continental scale
9241 : Estimation of the relative emission strengths from East Asia basen on the short-term vaiations of atmospheric trace gases observed at Hateruma and Ochi-ishi monitoring stations
9254 : A feasibility study on the linkage of regional climate change with intra-seasonal and inter-annual variations of ozone and its precursors over Japan
9255 : Development of a novel mass spectrometric technique for real time detection of volatile and semi-volatile organic compounds in air
9316 : Study on dynamics of air pollution in East Asia

Fiscal Year: 2003

8599 : Global Environmental Monitoring
8646 : A field study on production mechanisms and transport efficiency of ozone and oxidized nitrogen species in the troposphere
8754 : International collaborative studies on a wide-area air pollution of continental scale
8766 : Observation of the seasonal variations of peroxyacetyl nitrate (PAN) at Hateruma monitoring station in Okinawa, Japan

Fiscal Year: 2002

8427 : A field study on production mechanisms and transport efficiency of ozone and oxidized nitrogen species in the troposphere
8536 : International collaborative studies on a wide-area air pollution of continental scale
8567 : Observation of the seasonal variations of peroxyacetyl nitrate (PAN) at Hateruma monitoring station in Okinawa, Japan

Fiscal Year: 2001

8047 : B-8 Studies on the Impacts on Air Quality by Reactive Atmospheric Trace-Species which Control the Oxidizing Capacity of the Atmosphere and the Sink Processes of Green House Gases
8214 : Understanding the mechanisms of the production and transport regimes of tropospheric ozone via field observations of reactive nitrogen oxides
8297 : International collaborative studies on a wide-area air pollution of continental scale
Research Result (Publication)

all
Original Paper
Review
Other Publications
Research Result (Presentation)

all
Research Presentation
Research Lecture

Presenter :

Okamoto S.

,

Tanimoto H.

,

Hirota N.

,

Ikeda K.

, Akimoto H.

Name of Society :

14th iCACGP Quadrennial Symposium & 15th IGAC Science Conference 2018 (2018)

Name of Proceedings :

Abstracts

Presenter :

Ikeda K.

,

Tanimoto H.

,

Sugita T.

,

Akiyoshi H.

, Kanaya Y., Zhu C., Taketani F.

Name of Society :

2018 joint 14th iCACGP Quadrennial Symposium and 15th IGAC Science Conference (2018)

Name of Proceedings :

Abstracts

Presenter :

Sakata K.

,

Tanimoto H.

, Kurisu M. , Sakaguchi A. , Takahashi Y.

Name of Society :

2018 joint 14th iCACGP Quadrennial Symposium and 15th IGAC Science Conference (2018)

Name of Proceedings :

Abstracts

Research Presentation

Model analysis of long-range transport of black carbon to the Arctic with tagged tracer simulation

Presenter :

Ikeda K.

,

Tanimoto H.

, Kanaya Y., Zhu C., Taketani F.

Name of Society :

EGU General Assembly 2017 (2017)

Name of Proceedings :

Abstracts

Presenter :

Okamoto S.

,

Ikeda K.

,

Tanimoto H.

Name of Society :

European Geosciences Union General Assembly 2017 (2017)

Name of Proceedings :

Abstracts

Presenter :

Ikeda K.

,

Tanimoto H.

,

Nagashima T.

,

Nara H.

,

Mukai H.

,

Nojiri Y.

,

Tohjima Y.

, Davila Y., Dong X., Emmons L.K., Flemming J., Fu J., Ghude S., Henze D.K., Jonson J.E., Lund M.T., Park R., Pierce R.B., Sudo K.

Name of Society :

14th IGAC Science Conference (2016)

Name of Proceedings :

Abstracts

Presenter :

Sato K.

,

Fujitani Y.

,

Inomata S.

,

Morino Y.

, Shimono A., Hikida T.,

Imamura T.

,

Takami A.

,

Tanimoto H.

,

Tanabe K.

Name of Society :

32nd Symposium on Chemical Kinetics and Dynamics (2016)

Name of Proceedings :

Abstracts, 82

Research Presentation

Recent development of East Asian air quality assessment system

Presenter :

Inomata S.

,

Tanimoto H.

, Yamada H.

Name of Society :

7th International Conference on Proton Transfer Reaction Mass Spectrometry and its Applications (2016)

Name of Proceedings :

Abstracts, 30-33

Presenter :

Yamama H.,

Inomata S.

,

Tanimoto H.

Name of Society :

250th Americal Chemical Society National Meeting (2015)

Name of Proceedings :

-

Research Presentation

A simultaneous and time-resolved measurement of α-pinene ozonolysis products in gaseous and aerosol phases for the determination of gas-aerosol partitioning

Presenter :

Inomata S.

,

Tanimoto H.

, Pan X.-L., Taketani F., Komazaki Y., Miyakawa T., Kanaya Y., Wang Z.-F.

Name of Society :

The Second Workshop on Atmospheric Composition and the Asian Moonsoon (2015)

Name of Proceedings :

-

Research Presentation

Validation of the Asian surface ozone simulated by chemical transport models

Research Presentation

A simultaneous and time-resolved measurement of α-pinene ozonolysis products in gaseous and aerosol phases for the determination of gas-aerosol partitioning

Presenter :

Inomata S.

,

Tanimoto H.

,

Sato K.

,

Fujitani Y.

,

Morino Y.

,

Tanabe K.

, Yajima R., Sakamoto Y., Hirokawa J.

Name of Society :

JSPS-DFG Workshop on Aerosols Physicochemical Properties of Atmospheric Aerosols and their Effects on Air Quality and Public Health (2015)

Name of Proceedings :

-

Presenter :

Yamada H.,

Inomata S.

,

Tanimoto H.

Name of Society :

The 13th International Conference on Atmospheric Sciences and Applications to Air Quality (2015)

Name of Proceedings :

-

Research Presentation

Oxygen atom release during the dissociation of energy-rich Criegee intermediates produced by ozonolysis of cycloalkenes

Presenter :

Brown P.A.,

Inomata S.

,

Tanimoto H.

, Sakamoto Y., Yajima R., Hirokawa J.

Name of Society :

第21回大気化学討論会 (2015)

Name of Proceedings :

同予稿集, 72

Presenter :

Yamada H.,

Inomata S.

,

Tanimoto H.

Name of Society :

American Association for Aerosol Research 34th Annual Conference (2015)

Name of Proceedings :

Abstracts

Presenter :

Tanimoto H.

, Omori Y., Iwata T., Kameyama S.,

Inomata S.

Name of Society :

13th Quandrennial iCACGP Symposium, 13th IGAC Science Conference on Atomospheric Chemisty (2014)

Name of Proceedings :

-

Presenter :

Kudo S.,

Tanimoto H.

,

Inomata S.

, Saito S., Pan X., Kanaya Y., Taketani F., Wang Z., Chen H., Dong H., Zhang M., Yamaji K.

Name of Society :

13th Quadrennial iGACGP Symposium, 13th IGAC Science Conference on Atomospheric Chemistry (2014)

Name of Proceedings :

-

Presenter :

Tanimoto H.

, Kudo S.,

Inomata S.

, Saito S., Pan X., Kanaya Y., Wang Z., Chen H., Dong H., Zhuang M.

Name of Society :

AOGS 11th Annual Meeting (2014)

Name of Proceedings :

Abstracts

Presenter :

Tanimoto H.

Name of Society :

MOZAIC-IAGOS Scientific symposium on atmospheric composition observation by commercial aircraft (2014)

Name of Proceedings :

Abstracts

Presenter :

Omori Y.,

Tanimoto H.

,

Inomata S.

, Wada S., Hama T.

Name of Society :

6th International Symposium on biological and environmental chemistry of DMS(P) and related compounds (2014)

Name of Proceedings :

Abstracts

Research Presentation

Measurement of air-sea exchange of dimethyl sulfide by PTR-MS coupled with gradient flux technique in the Pacific Ocean

Presenter :

Tanimoto H.

, Omori Y., Iwata T., Kameyama S.,

Inomata S.

Name of Society :

6th International Symposium on biological and environmental chemistry of DMS(P) and related compounds (2014)

Name of Proceedings :

Abstracts

Research Presentation

Nutrient availability determines dimethylsulfide(DMS) and isoprene distribution in the eastern Atlantic Ocean

Presenter :

Zindler C., Marandino C.A., Bange H.W., Saltzman E.S.,

Tanimoto H.

, Kameyama S., Omori Y., Takeda S., Kodama T.

Name of Society :

6th International Symposium on biological and environmental chemistry of DMS(P) and related compounds (2014)

Name of Proceedings :

Abstracts

Research Presentation

Application of PTR-MS to an incubation experiment of the marine diatom Thalassiosira pseudonana

Presenter :

Kameyama S.,

Tanimoto H.

,

Inomata S.

, Suzuki K., Komatsu D.D., Hirota A., Konno U., Tsunogai U.

Name of Society :

6th International Symposium on biological and environmental chemistry of DMS(P) and related compounds (2014)

Name of Proceedings :

Abstracts

Research Presentation

Strong relationship between dimethyl sulfide and net community production in the western subarctic Pacific

Presenter :

Kameyama S.,

Tanimoto H.

,

Inomata S.

, Yoshikawa-Inoue H. , Tsunogai U, Tsuda A., Uematsu M., Ishii M., Sasano D., Suzuki K., Nosaka Y.

Name of Society :

6th International Symposium on biological and environmental chemistry of DMS(P) and related compounds (2014)

Name of Proceedings :

Abstracts

Presenter :

Omori Y.,

Tanimoto H.

,

Inomata S.

, Kameyama S., Suzuki K.

Name of Society :

2014 Ocean Sciences Meeting (2014)

Name of Proceedings :

-

Presenter :

Inomata S.

,

Tanimoto H.

, Pan X.-L., Taketani F., Komazaki Y., Miyakawa T., Kanaya Y., Wang Z.-F.

Name of Society :

2014 AGU Fall Meeting (2014)

Name of Proceedings :

Abstracts, A53A-3189

Presenter :

Brown P.A.,

Inomata S.

, Hirokawa J., Sakamoto Y.,

Tanimoto H.

Name of Society :

20th Asian Conference on Analytical Sciences (2013)

Name of Proceedings :

Abstracts, 1MH-PM11

Presenter :

Tanimoto H.

, Omori Y.,

Inomata S.

, Iwata T., Kameyama S., Furuya K., Tsuda A., Uematsu M.

Name of Society :

Goldschmidt2013 Conference (2013)

Name of Proceedings :

Abstracts, 2310

Research Presentation

Analysis of organic components in secondary organic aerosols by chemical ionization mass spectrometry and discussion on mechanism of isoprene ozonolysis

Presenter :

Inomata S.

,

Tanimoto H.

,

Sato K.

, Hirokawa J., Sakamoto Y., Okumura M., Tohno S.

Name of Society :

6th International Conference on Proton Transfer Reaction Mass Spectrometry and its Applications (2013)

Name of Proceedings :

Abstracts, 114-117

Research Presentation

Product Analysis in Ethylene Ozonolysis by Chemical Ionization Mass Spectrometry

Presenter :

Sakamoto Y.,

Inomata S.

,

Tanimoto H.

, Hirokawa J.

Name of Society :

6th International Conference on Proton Transfer Reaction Mass Spectrometry and its Applications (2013)

Name of Proceedings :

Abstracts, 216-219

Research Presentation

Measurement of chemical composition and optical properties of PM2.5 at Rudong, China

Presenter :

Taketani F., Kanaya Y., Pan X., Irie H., Takashima H.,

Tanimoto H.

, Saito S., Akimoto H., Wang Z.

Name of Society :

American Geophysical Union 2013 Fall Meeting (2013)

Name of Proceedings :

-

Research Presentation

Emissions of oxygenated volatile organic compounds from open crop burning in Yangtze River Delta region, China

Presenter :

Tanimoto H.

, Kudo S., Pan X.,

Inomata S.

, Saito S., Kanaya Y., Wang Z.

Name of Society :

American Geophysical Union 2013 Fall Meeting (2013)

Name of Proceedings :

-

Research Presentation

Analysis of organic components in secondary organic aerosols by proton transfer reaction mass spectrometry and discussion on oxidation mechanism of isoprene

Presenter :

Inomata S.

,

Tanimoto H.

,

Sato K.

, Hirokawa J., Sakamoto Y., Okumura M., Tohno S.

Name of Society :

International Symposium on Aerosols in East Asia and Their Impacts on Plants and Human Health (2012)

Name of Proceedings :

Abstracts, 80-81

Research Presentation

Secondary organic aerosol formation from ethylene ozonolysis

Presenter :

Sakamoto Y.,

Inomata S.

,

Tanimoto H.

, Hirokawa J.

Name of Society :

International Symposium on Aerosols in East Asia and Their Impacts on Plants and Human Health (2012)

Name of Proceedings :

Abstracts, 98

Research Presentation

Sensitive, high-resolution measurement of volatile organic compounds dissolved in seawater using proton transfer reaction-mass spectrometry

Presenter :

Tanimoto H.

, Kameyama S.,

Inomata S.

, Tsunogai U., Yokouchi Y., Takeda S., Obata H., Uematsu M.

Name of Society :

Goldschmidt Conference 2011 (2011)

Name of Proceedings :

Goldschmidt Conference Abstracts, 1987

Presenter :

Yokouchi Y.,

Saito T.

,

Nojiri Y.

, Nara F.,

Tanimoto H.

,

Mukai H.

Name of Society :

Global Monitoring Annual Conference 2011 (2011)

Name of Proceedings :

Abstracts of Global Monitoring Annual Conference 2011, 7

Research Presentation

On-line measurements of nitro organic compounds emitted from automobiles by proton transfer reaction mass spectorometry: Laboratory experiments and a field measurement

Research Presentation

Sensitive, high-resolution measurement of volatile organic compounds dissolved in seawater using proton transfer reaction-mass spectrometry

Presenter :

Tanimoto H.

, Kameyama S.,

Inomata S.

, Tsunogai U., Yokouchi Y., Takeda S., Obata H., Tsuda A., Uematsu M.

Name of Society :

AGU Fall Meeting 2011 (2011)

Name of Proceedings :

Abstracts of AGU Fall Meeting 2011

Research Presentation

Long-term monitoring of non-CO2 greenhouse gases and aerosols in Asia and Oseania using voluntary observing ships

Presenter :

Tanimoto H.

,

Nara H.

,

Mukai H.

,

Nojiri Y.

,

Tohjima Y.

,

Machida T.

, Yokouchi Y., Hashimoto S.

Name of Society :

Sixth International Symposium on Non-CO2 Greenhouse Gases (NCGG-6) Science, Policy and Integration (2011)

Name of Proceedings :

Abstracts of Sixth International Symposium on Non-CO2 Greenhouse Gases (NCGG-6) Science, Policy and Integration, 12

Presenter :

Nara H.

,

Tanimoto H.

,

Nojiri Y.

,

Mukai H.

, Katsumata K.,

Tohjima Y.

,

Machida T.

Name of Society :

16th WMO/IAEA Meeting on Carbon Dioxide, Other Greenhouse Gases, and Related Measurement Techniques (2011)

Name of Proceedings :

Abstracts of 16th WMO/IAEA Meeting on Carbon Dioxide, Other Greenhouse Gases, and Related Measurement Techniques

Presenter :

Sekimoto K. ,

Inomata S.

,

Tanimoto H.

,

Fujitani Y.

, Yamada H., Hori S., Shimono A., Hikida T.

Name of Society :

5th Int.PTR-MS Conf.2011 (2011)

Name of Proceedings :

Proceedings, 61-64

Presenter :

Inomata S.

,

Tanimoto H.

Name of Society :

5th Int.PTR-MS Conf.2011 (2011)

Name of Proceedings :

Proceedings, 219-222

Research Presentation

High-resolution measurement of multiple volatile organic compounds dissolved in seawater using equilibrator inlet-proton transfer reaction-mass spectrometry (EI-PTR-MS)

Presenter :

Tanimoto H.

, Kameyama S.,

Inomata S.

, Tsunogai U., Oki A., Takeda S., Obata H., Tsuda A., Uematsu M.

Name of Society :

3rd Bi-Annu.Symp. (2010)

Name of Proceedings :

Abstcarts, 56

Research Presentation

Decadal trends in tropospheric ozone over East Asian Pacific rim during 1998-2007: Comparison to European and North American records, and implications for emerging Asian emissions impacts

Presenter :

Tanimoto H.

,

Ohara T.

, Uno I.

Name of Society :

12th Symp.Int.Comm.Atmos.Chem.Global Pollut.(CACGP) /11th Sci.Conf.Int.Global Atmos.Chem.(IGAC) Proj. (2010)

Name of Proceedings :

Abstracts

Research Presentation

Decadal trend in springtime tropospheric ozone at a mountainous site in Japan: 1998-2007

Presenter :

Tanimoto H.

,

Ohara T.

, Uno I.

Name of Society :

Symp.Atmos.Chem.Phys.Mt.Sites (2010)

Name of Proceedings :

Abstcarts, 84-85

Presenter :

Inomata S.

,

Tanimoto H.

, Kato S., Suthawaree J., Kanaya Y., Pochanart P., Liu Y., Wang Z.

Name of Society :

EGU Gen.Assem.2010 (2010)

Name of Proceedings :

Abstracts, EGU2010-9745

Research Presentation

Decadal trend in springtime tropospheric ozone at a mountainous site in Japan: 1998-2007

Presenter :

Tanimoto H.

,

Ohara T.

, Uno I.

Name of Society :

EGU Gen.Assem.2010 (2010)

Name of Proceedings :

Abstracts, A42C-02

Research Lecture

Decadal trends in tropospheric ozone over East Asian Pacific rim during 1998-2007: Implications for emerging Asian emissions impacts and comparison to European and North American records

Presenter :

Tanimoto H.

,

Ohara T.

, Uno I.

Name of Society :

AGU Fall Meeting 2010 (2010)

Name of Proceedings :

Abstracts, A42C-02

Research Presentation

CO2 and DMS flux measurement by the profiling bouy system

Presenter :

Iwata T., Kameyama S.,

Tanimoto H.

Name of Society :

AGU Fall Meeting 2010 (2010)

Name of Proceedings :

Abstracts, B31C-0325

Research Presentation

High-resolution measurement of DMS and volatile organic compounds dissolved in seawater using equilibrator inlet-proton transfer reaction-mass spectrometry (EI-PTR-MS)

Presenter :

Kameyama S.,

Tanimoto H.

,

Inomata S.

, Tsunogai U., Oki A., Yokouchi Y., Takeda S., Obata H., Tsuda A., Uematsu M.

Name of Society :

AGU Fall Meeting 2010 (2010)

Name of Proceedings :

Abstracts, B31C-0324

Research Presentation

Sensitive, high-resolution measurement of dimethyl sulfide dissolved in seawater using proton transfer reaction-mass spectrometry: Development, applications, and first results

Presenter :

Tanimoto H.

, Kameyama S.,

Inomata S.

, Tsunogai U.

Name of Society :

5th Int.Symp.Biol.Environ.Chem.DMS(P) Relat.Compo. (2010)

Name of Proceedings :

Abstracts, 32

Research Presentation

Analysis of variations and hotspots of dimethyl sulfide in surface seawater of the western North Pacific Ocean: Results with equilibrator inlet-proton transfer reactionmass spectrometry (EI-PTR-MS)

Presenter :

Kameyama S.,

Tanimoto H.

,

Inomata S.

, Tsunogai U., Oki A., Yokouchi Y., Takeda S., Obata H., Tsuda A., Uematsu M.

Name of Society :

5th Int.Symp.Biol.Environ.Chem.DMS(P) Relat.Compo. (2010)

Name of Proceedings :

Abstracts, 33

Presenter :

Katsumata K.,

Machida T.

,

Tanimoto H.

,

Nara H.

,

Mukai H.

Name of Society :

15th WMO/IAEA Meet.Experts Carbon Dioxide,Other Greenhouse Gases,Related Tracer Meas.Tech. (2009)

Name of Proceedings :

Abstracts

Research Presentation

Regional characteristics on greenhouse gaseous concentrations in some Asia/Pacific sites

Presenter :

Mukai H.

, Zeng Y., Naja M.,

Machida T.

,

Nojiri Y.

,

Terao Y.

,

Tanimoto H.

,

Nara H.

,

Tohjima Y.

, Hashimoto S., Sunaga A., Koyama Y., Maksyutov S.

Name of Society :

8th Int.Carbon Dioxide Conf. (2009)

Name of Proceedings :

Abstracts

Research Presentation

Increase in springtime tropospheric ozone at a mountainous site in Japan for the period 1998-2006

Presenter :

Tanimoto H.

Name of Society :

MOCA-09 (2009)

Name of Proceedings :

Program, 152

Research Presentation

Satellite and model analysis of wildfire NOx emissions in Siberia: Links to interannual variability of surface ozone for the period 1998-2004

Presenter :

Tanimoto H.

Name of Society :

4th GEOS-Chem Sci.Users'Meet. (2009)

Name of Proceedings :

Program

Research Presentation

Recent PTR-MS activities at NIES: Instrumentation and field measurements

Presenter :

Tanimoto H.

,

Inomata S.

, Kameyama S., Tsunogai U.

Name of Society :

4th Int.PTR-MS Conf.2009 (2009)

Name of Proceedings :

Proceedings, 98-102

Research Lecture

Ozone standard activities at NIES, Japan

Presenter :

Tanimoto H.

,

Mukai H.

, Hashimoto S.

Name of Society :

2nd Tripartite Workshop Sci.Res.Photochem.Oxidant (2009)

Name of Proceedings :

Program

Presenter :

Kameyama S.,

Tanimoto H.

,

Inomata S.

, Tsunogai U., Oki A., Yokouchi Y., Takeda S., Obata H., Tsuda A., Uematsu M.

Name of Society :

SOLAS Open Sci.Conf. (2009)

Name of Proceedings :

Abstracts, 37

Presenter :

Tanimoto H.

, Kameyama S.,

Inomata S.

, Tsunogai U., Oki A., Yokouchi Y., Takeda S., Obata H., Tsuda A., Uematsu M.

Name of Society :

SOLAS Open Sci.Conf. (2009)

Name of Proceedings :

Abstracts, 86

Presenter :

Tanimoto H.

, Sato K., Butler T., Lawrence M.G., Fisher J., Kopacz M., Yantosca R.M., Kanaya Y., Kato S., Okuda T., Tanaka S., Zeng J.

Name of Society :

2009 NASA Sounder Sci.Team Meet. (2009)

Name of Proceedings :

Program

Research Presentation

Diagnosing recent CO emissions from East Asia using coordinated surface observations, adjoint inverse modeling, and MOPITT satellite data

Presenter :

Tanimoto H.

, Sawa Y., Yonemura S., Yumimoto K., Matsueda H., Uno I., Hayasaka T.,

Mukai H.

,

Tohjima Y.

, Tsuboi K., Zhang L.

Name of Society :

IGAC 10th Int.Conf. (2008)

Name of Proceedings :

Abstracts

Research Presentation

PTR-MS-based method for measuring dissolved nonmethane hydrocarbons (or volatile organic compounds) in seawater: Instrumentation and preliminary results

Presenter :

Kameyama S.,

Tanimoto H.

,

Inomata S.

Name of Society :

2008 Ocean Sci.Meet.(Poster Session) (2008)

Name of Proceedings :

Abstracts(Web)

Research Presentation

Exploring CO pollution episodes observed at Rishiri Island by chemical weather simulations and AIRS satellite measurements: Long-range transport of burning plumes and implications for emissions inventory

Presenter :

Tanimoto H.

, Sato K., Butler T., Lawrence M.G., Fisher J., Kopacz M., Yantosca R.M., kanaya Y., Kato S., Okuda T., Tanaka S., Zeng J.

Name of Society :

AGU Fall Meeting 2008 (2008)

Name of Proceedings :

Abstracts

Research Presentation

Long-term simulations of surface ozone in East Asia during 1980-2020 with CMAQ and REAS inventory

Presenter :

Katsumata K., Katsumata K.,

Machida T.

,

Tanimoto H.

Name of Society :

14th WMO/IAEA Meet.Experts Carbon Dioxide,Other Greenhouse Gases,Related Tracer Meas.Tech. (2007)

Name of Proceedings :

Abstracts

Research Presentation

Accurate determination of formaldehyde mixing ratios in polluted air with PTR-MS: Laboratory characterization and field measurements

Presenter :

Kameyama S.

,

Inomata S.

,

Tanimoto H.

, Tsunogai U.(*1), Irie H.(*2), Kanaya Y.(*2)

Name of Society :

12th Asian Chem.Congr.(12ACC) (2007)

Name of Proceedings :

Abstracts

Research Presentation

PTR-MS Measurements of non-methane volatile organic compounds at the summit of Mount Tai,China,in June 2006

Presenter :

INOMATA Satoshi

,

TANIMOTO Hiroshi

, Kato S.(*1), Kanaya Y.(*2), Wang Z.(*3)

Name of Society :

12th Asian Chem.Congr.(12ACC) (2007)

Name of Proceedings :

Abstracts

Research Presentation

Measurements of NOx,Noy,and NMVOCs at the summit of Mount Tai,China,in June 2006

Presenter :

Tanimoto H.

,

Inomata S.

, Kanaya Y.(*1), Kato S.(*2), Wang Z.(*3)

Name of Society :

10th Int.Conf.Atmos.Sci.Appl.Air Qual. (2007)

Research Presentation

Photochemical ozone production rates at the summit of Taishan (Mount Tai),China,in June 2006

Research Presentation

Modelling study using CMAQ/RAMS and REAS during the intensive observation campaign at Taishan

Presenter :

Yamaji K.(*1),

Ohara T.

, Uno I.(*2), Liu Y.(*1), Kanaya Y.(*1), Pochanart P.(*1), Komazaki Y.(*1),

Tanimoto H.

, Kato S.(*3), Suthawaree J.(*3)

Name of Society :

10th Int.Conf.Atmos.Sci.Appl.Air Qual.(ASAAQ 2007) (2007)

Name of Proceedings :

Abstracts

Research Presentation

The NIES PTR-TOFMS instrument:design, performance, and application

Presenter :

Tanimoto H.

,

Inomata S.

, Aoki N., Sadanaga Y., Hirokawa J.(*1)

Name of Society :

3rd Int.PTR-MS Conf.2007 (2007)

Name of Proceedings :

Proceedings

Research Presentation

Determination of formaldehyde mixing ratios in polluted air with PTR-MS: Laboratory characterization and field measurements

Research Presentation

Standards for GHGs and ozone monitoring in Japan

Research Presentation

Development of new PTR ion sources for soft and selective ionization

Presenter :

INOMATA Satoshi

,

TANIMOTO Hiroshi

, Aoki N.(*1)

Name of Society :

3rd Int.Conf.Proton Transfer React.Mass Spectrom.Its Appl.(Poster Session) (2007)

Name of Proceedings :

Proceedings

Research Presentation

Interannual variations and recent trends of surface ozone in East Asia: Integrated observations and chemical transport model analysis

Presenter :

Tanimoto H.

Name of Society :

Jt.TFHTAP WMO Workshop Integrated Obs.Assessing Hemispheric Air Pollut. (2007)

Name of Proceedings :

Program

Research Presentation

Photochemical oxidant production rates in Tokyo in winter and summer 2004: Estimations from observed OH/HO2 radical concentrations

Presenter :

Kanaya Y.(*1), Akimoto H.(*1),

Tanimoto H.

, Yokouchi Y., Koike M.(*2), Fukuda M.(*2), Takegawa N.(*3), Komazaki Y.(*3), Kondo Y.(*3)

Name of Society :

Jt.IGAC/CACGP/WMO Symp. (2006)

Name of Proceedings :

Abstracts(CD-ROM)

Research Presentation

Development of a PTR-TOFMS instrument for real-time measurements of volatile organic compounds in air

Presenter :

Tanimoto H.

,

Inomata S.

, Aoki N.(*1), Sadanaga Y.(*2), Hirokawa J.(*3)

Name of Society :

Jt.IGAC/CACGP/WMO Symp.(Poster Session) (2006)

Name of Proceedings :

Abstracts(CD-ROM)

Research Presentation

Interannual variations and recent trends of surface ozone in East Asia: standarization and integration of measurements,and chemical transport model analysis

Presenter :

Tanimoto H.

,

Ohara T.

,

Mukai H.

, Sawa Y.(*1), Matsueda H.(*1), Yonemura S.(*2), Uno I.(*3)

Name of Society :

Jt.IGAC/CACGP/WMO Symp. (2006)

Name of Proceedings :

Program(CD-ROM)

Research Presentation

Factors controlling the CCN number concentrations at north of East China Sea in spring 2005

Presenter :

Koike M.(*1), Kuwata M.(*2), Kondo Y.(*2), Miyazaki Y.(*2), Kodama D.(*2), Yum S.S.(*3),

Tanimoto H.

, Matsueda H.(*4)

Name of Society :

Jt.IGAC/CACGP/WMO Symp.(Poster Session) (2006)

Name of Proceedings :

Program(CD-ROM)

Research Presentation

Development of a PTR-TOFMS instrument for real-time measurements of volatile organic compounds in air

Presenter :

Tanimoto H.

,

Inomata S.

, Aoki N.(*1), Hirokawa J.(*2), Sadanaga Y.(*3)

Name of Society :

6th Int.Symp.Adv.Environ.Monit.(Poster Session) (2006)

Name of Proceedings :

Program

Research Presentation

Possible linkage of marine algae,organics emissions,and photochemistry

Presenter :

Tanimoto H.

, Kato S.(*1), Akimoto H.(*2),

Yamano H.

Name of Society :

4th Int.Symp.Biol.Environ.Chem.DMS(P) Relat.Compo.(Poster Session) (2006)

Name of Proceedings :

Program

Research Presentation

Development of a PTR-TOFMS instrument for real-time measurements of volatile organic compounds in air

Presenter :

INOMATA Satoshi

,

TANIMOTO Hiroshi

, Aoki N., Hirokawa J.(*1), Sadanaga Y.

Name of Society :

AGU 2006 Fall Meet. (2006)

Name of Proceedings :

Abstracts(FM06.iso)

Research Presentation

Interannual variations and recent trends of surface ozone in East Asia: Integrated observations and chemical transport model analysis

Presenter :

Tanimoto H.

,

Ohara T.

, Kurokawa J-i.,

Mukai H.

, Uno I.(*1), Yamaji K.(*2)

Name of Society :

AGU 2006 Fall Meet. (2006)

Name of Proceedings :

Program

Research Presentation

Impact of changing climate and emissions on surface ozone distributions and evolution: ENSO,long-range transport,and biomass burning

Presenter :

Tanimoto H.

,

Mukai H.

,

Ohara T.

, Uno I.(*1)

Name of Society :

Reg.Clim.Variability & its Impacts in the Mediterranean Area-Adv.Res.Workshop Marrakech(Maroc) (2006)

Name of Proceedings :

Program

Research Presentation

In situ atmospheric O2/N2 measurements by GC system in Cape Ochi-ishi

Presenter :

Yamagishi H.(*1),

Tohjima Y.

,

Mukai M.

,

Tanimoto H.

,

Nojiri Y.

, Zeng J.(*3), Shimano F.(*3)

Name of Society :

2nd Int.Summer Sch.Surf.Ocean-Lower Atmos.Study(SOLAS)(Poster Session) (2005)

Name of Proceedings :

-

Research Presentation

Modeling study of seasonal and inter-annual variation of trans-boundary air pollution in East Asia

Presenter :

Uno I.(*1),

Ohara T.

,

Tanimoto H.

, Yamaji K.(*2)

Name of Society :

4th Annu.CMAS Models-3 User's Conf.,Chapel Hill (2005)

Name of Proceedings :

-

Research Presentation

Interannual variations and recent trends of ground-level ozone over East Asia

Presenter :

Tanimoto H.

, Sawa Y.(*1), Matsueda H.(*1), Yonemura S.(*2), Uno I.(*3),

Ohara T.

Name of Society :

2005 Gordon Res.Conf.,Big Sky(Poster Session) (2005)

Name of Proceedings :

-

Research Presentation

Ozone standard activities at NIES

Presenter :

TANIMOTO Hiroshi

Name of Society :

Gas CRM workshop (2005)

Name of Proceedings :

-

Research Presentation

Seasonal and interannual variations of ground-level ozone over East Asia

Presenter :

Tanimoto H.

Name of Society :

1st Int.Symp.China,Korea Jpn.Meteorol.Soc. -Atmos.Sci.East Asia- (2005)

Name of Proceedings :

Program

Research Presentation

Interannual variations of the carbon monoxide tropospheric burden between 30N and 90N in 1996-2003: ground-based and satellite measurements,estimates of biomass burning emissions

Presenter :

Yurganov L.N.(*1), Edwards D.P.(*2), Grechko E.I.(*3), Kramer I.(*4), Mahieu E.(*5), Notholt J.(*6), Novelli P.C.(*7), Strandberg A.(*8), Sussmann R.(*4),

TANIMOTO Hiroshi

Name of Society :

EGU 2005 (2005)

Name of Proceedings :

Geophys.Res.Abstr., 7

Research Presentation

International comparison of standards/measurements of ozone at Gosan during EAREX2005

Presenter :

Tanimoto H.

Name of Society :

ABC Sci.Team Meet. (2005)

Name of Proceedings :

-

Research Presentation

Gas phase titration at NIES,and intercomparison of laboratory standards/measurements of ozone in Northeast Asia

Presenter :

Tanimoto H.

,

Mukai H.

Name of Society :

Workshop CCQM-P28,BIPM (2005)

Name of Proceedings :

-

Research Presentation

Gas phase titration at NIES, and intercomparison of laboratory standards/measurements of ozone in Northeast Asia

Presenter :

TANIMOTO Hiroshi

Name of Society :

Workshop on CCQM-P28: Ozone at ambient level (2005)

Name of Proceedings :

-

Research Presentation

International comparison of ozone and carbon monoxide measurements in East Asia

Presenter :

Tanimoto H.

Name of Society :

ABC Gosan Campaign-EAREX2005 Workshop (2005)

Name of Proceedings :

-

Research Presentation

Oxidation of reactive nitrogen and ozone production in Tokyo

Presenter :

Fukuda M.(*1), Miyazaki Y.(*1),

Kondo Y.(*1)

, Morino Y.(*1), Takegawa N.(*1), Miyakawa T.(*1), Komazaki Y.(*1),

Tanimoto H.

, Yokouchi Y., Kanaya Y.(*2)

Name of Society :

AGU 2005 Fall Meet. (2005)

Name of Proceedings :

Abstracts(CD-ROM)

Research Presentation

Seasonal cycles, interannual variations, and recent trends of surface ozone over East Asia: 7-years observations and regional chemical transport model analysis

Presenter :

Tanimoto H.

, Sawa Y.(*1), Matsueda H.(*1), Yonemura S.(*2), Uno I.(*3),

Ohara T.

Name of Society :

AGU 2005 Fall Meet. (2005)

Name of Proceedings :

Abstracts(CD-ROM)

Research Presentation

PIE 2005: An intercomparison of measurement techniques for peroxyacyl nitrates(PANs)

Presenter :

Tyndall G.(*1), Apel E.(*1), Williams E.(*2), Flocke F.(*1), Cohen R.(*3), Gilge S.(*4), Kim S.(*5), Kim S.(*4), Mills G.(*6),

Tanimoto H.

Name of Society :

AGU 2005 Fall Meet.(Poster Session) (2005)

Name of Proceedings :

Abstracts(CD-ROM)

Research Presentation

Widespread air pollution over the western North Pacific during the EAREX2005 campaign

Presenter :

Tanimoto H.

Name of Society :

2nd Data Workshop Atmos.Brown Cloud(ABC)-East Asian Reg.Exp.2005 (2005)

Name of Proceedings :

-

Research Presentation

Daytime behavior of OH and HO2 radicals at Rishiri Island in September 2003: Reason for the Low HO2 levels

Presenter :

Kanaya Y.(*1), Cao R.(*1), Yokouchi Y.,

Tanimoto H.

, Kato S.(*2), Miyakawa Y.(*2), Sadanaga Y.(*2), Kajii Y.(*2), Akimoto H.(*1)

Name of Society :

8th Int.Global Atmos.Chem.Conf. (2004)

Name of Proceedings :

Abstracts

Research Presentation

An intercomparison of surface ozone measurements at Gosan during ABC-Asia: Outline and implementation strategy

Presenter :

Tanimoto H.

Name of Society :

Int.Workshop ABC Gosan Campaign (2004)

Name of Proceedings :

Program & Abstracts

Research Presentation

CO total column measurements in the Northern Hemisphere from the ground and from space: Effects of forest fires in 2002 and 2003

Presenter :

Yurganov L.(*1), Duchatelez P.(*2), Dzhola A.(*3), Edowards D.(*4), Hase F.(*5), Kramer I.(*5), Mahieu E.(*2), Mellqvist J.(*6), Notholt J.(*7),

TANIMOTO Hiroshi

Name of Society :

8th Int.Global Atmos.Chem.Conf. (2004)

Name of Proceedings :

Abstracts

Research Presentation

Intercomparison of ozone reference standards at ambient levels: An atmospheric chemistry perspective

Presenter :

Tanimoto H.

,

Mukai H.

, Norris J.E.(*1)

Name of Society :

8th Int.Global Atmos.Chem.Conf. (2004)

Name of Proceedings :

Abstracts

Research Presentation

Climatology of tropospheric ozone over Japan: Implications for air quality standards in a regional perspective

Presenter :

Tanimoto H.

Name of Society :

Asia-Oceania Geosci.Soc.1st Annu.Meet. (2004)

Name of Proceedings :

-

Research Presentation

Strong positive correlation between mixing ratios of HOx radical and monoterpenes during nighttime observed at Rishiri Island in September 2003

Presenter :

Kanaya Y.(*1), Cao R.(*1),

Tanimoto H.

, Miyakawa Y.(*2), Kato S.(*2), Kajii Y. (*2), Akimoto H.(*1)

Name of Society :

EGU 1st Gen.Assem.2004 (2004)

Name of Proceedings :

-

Research Presentation

Measurements of C1-C5 alkyl nitrates using gas chromatography/negative ion chemical ionization mass spectrometry

Presenter :

Tanimoto H.

,

Imamura T.

Name of Society :

AGU 2004 Fall Meet. (2004)

Name of Proceedings :

Eos,Transactions, 85(47)

Research Presentation

Measurements of C1-C5 alkyl nitrates using gas chromatography/negative ion chemical ionization mass spectrometry

Presenter :

Tanimoto H.

,

Imamura T.

Name of Society :

AGU 2004 Fall Meet.(Poster Session) (2004)

Name of Proceedings :

Abstracts(CD-ROM)

Research Presentation

APAN observed at Rishiri Island-high episodes,relationships,and possible sources

Presenter :

Tanimoto H.

, Kato S.(*1)(*2), Akimoto H.(*3),

Yamano H.

Name of Society :

EGS-AGU-EUG Jt.Assembl. (2003)

Name of Proceedings :

Programs

Research Presentation

Observational implications for the source of APAN at Rishiri Island

Presenter :

Tanimoto H.

, Kato S.(*1)(*2), Akimoto H.(*3),

Yamano H.

Name of Society :

8th Int.Conf.Atmos.Sci.Appl.Air Qual. (2003)

Name of Proceedings :

Program & Abstracts, 195

Research Presentation

SO2 over the western part of the Sea of Japan-results of PEACE-A aircraft observation

Research Presentation

Ground-based observations of PAN,PPN, and APAN at Rishiri Island in northern Japan

Presenter :

Tanimoto H.

, Kato S.(*1)(*2), Akimoto H.(*3),

Yamano H.

Name of Society :

IAMAS,CACGP IGAC, Joint Int.Symp.Atmos.Chem.Earth Syst.(Poster Presentations) (2002)

Name of Proceedings :

Program & Abstracts, 170

Research Presentation

Horizontal and vertical distributions of SO2 observed during the PEACE missions

Presenter :

Takami A.

,

Tanimoto H.

Name of Society :

Am.Geophys.Union 2002 Fall Meet. (2002)

Name of Proceedings :

Program & Abstracts

Measurements of PAN and HNO3 at a remote island site in Japan by using NI-CIMS technique

Presenter :

Akimoto H.(*1),

Tanimoto H.

, Furutani H.(*2), Wild O.(*1)

Name of Society :

8th Eur.Symp.Physico-Chem.Behav.Atmos.Pollut. (2001)

Name of Proceedings :

-

Seasonal variations of ozone and oxidized nitrogen species at Rishiri Island,a northernmost island in Japan during the RISOTTO 1999-2000

The presence of peroxyacryloyl nitrate(APAN) in the atmosphere: potential sources and atmospheric importance

Seasonal characteristics of the air quality in the northeast Asia: observation and modeling of O3,NMHCs,and speciated NOy

Presenter :

Tanimoto H.

Name of Society :

IGBP Global Change Open Sci.Conf. (2001)

Name of Proceedings :

Abstracts

Ozone and carbon monoxide in East Asia: the latest results from ground-based observation

Seasonal variations of non-methane hydrocarbons at Rishiri Island, a northernmost island in Japan during the RISOTTO 1999-2000

Daytime HO2 observed at three remote islands in Japan:possible explanations for model overprediction at Oki and Rshiri

Nighttime HO2 observed in the marine boundary layer at three remote islands in Japan

Presenter :

Akimoto H.(*1), Kanaya Y.(*1), Nakamura K.(*2), Sadanaga Y.(*2), Matsumoto J.(*2),

Tanimoto H.

, Sharma U.K., Kato S.(*3), Hirokawa J.(*2), Kajii Y. (*2)

Name of Society :

8th Sci.Assem.IAMAS (2001)

Name of Proceedings :

Abstracts

The roles of chemistry and transport for the seasonal cycles of ozone and oxidized nitrogen species in Northeast Asia

Presenter :

Tanimoto H.

Name of Society :

Symp.Atomos.Comp.Change (2001)

Name of Proceedings :

Abstracts

Decadal trends in tropospheric ozone over East Asian Pacific rim during 1998-2007: Implications for emerging Asian emissions impacts and comparison to European and North American records

Presenter :

Tanimoto H.

,

Ohara T.

, Uno I.

Name of Society :

AGU Fall Meeting 2010 (2010)

Name of Proceedings :

Abstracts, A42C-02

Ozone standard activities at NIES, Japan

Presenter :

Tanimoto H.

,

Mukai H.

, Hashimoto S.

Name of Society :

2nd Tripartite Workshop Sci.Res.Photochem.Oxidant (2009)

Name of Proceedings :

Program