Classification and visualization of multi-level environmental governance
・Developing governance indices that enable the visualization of governance status in various regions (including community bases), based on case study and analysis, with reference to the national level governance indices of the World Bank. Classifying diversely extended multi-level environmental governances based on a multi-level regional viewpoint and multi-level operating body viewpoint for the quantitative elucidation of interaction between governance and natural capital/ecosystem services.

・Based on that, comprehensively predicting the various strategic effects of the new era's natural capital governances, such as an innovative fund mechanism, by taking traditional environmental governance, novel natural capital accounting, and ecosystem service payment into consideration.

・In addition, elucidating both the public and private roles for natural capital conservation, as well as success factors for community-based cooperative management through a public and private partnership.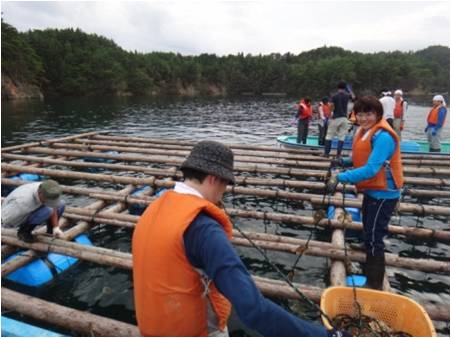 Activities of supporters building an aqua farm (in the Moune area, Kesennuma City, Miyagi Prefecture, Japan)
Exchange of opinions with diverse stakeholders, including foreigners