Research framework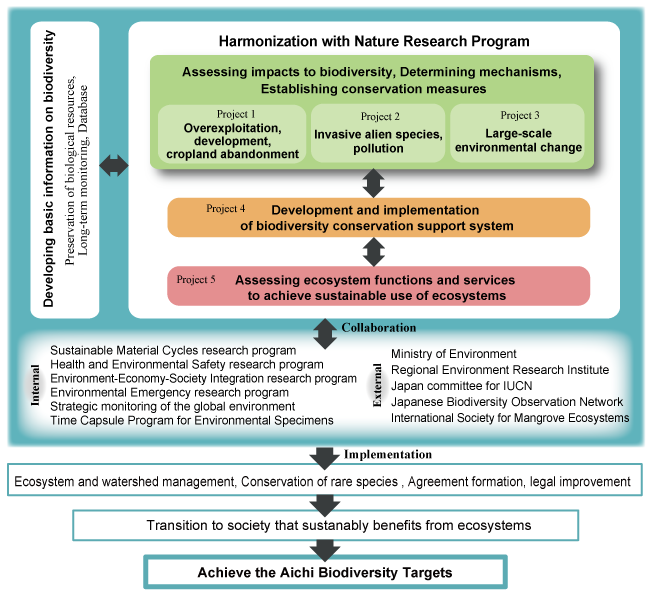 Researchers at the Center are teaming together in the "Harmonization with Nature Research Program," which is one of the five Issue-Oriented Research Programs of the National Institute for Environmental Studies.
In addition, young researchers are also encouraged to focus on basic research to establish new ideas on biodiversity conservation. In response to the Great East Japan Earthquake, we are also conducting research to investigate the effects of radioactive materials released into the environment and exposed to living organisms and ecosystems.
Research Field
Issue-Oriented Research Program
〜Harmonization with Nature Research Program〜
---
Environmental Research Fields
---
Environmental Research Infrastructure
The Center promotes preservation of biological resources, long-term ecosystem monitoring, and establishment of biodiversity databases.
Preservation of biological resources
We are preserving microalgae related to environmental issues such as red tide and blue-green algae, and we also preserve cells of endangered wildlife species.
Long-term ecological monitoring
Long-term monitoring is necessary to investigate the mechanisms of ecosystem change. Monitoring of the lakes Kasumigaura and Mashu has been conducted for more than 40 years since the establishment of the Institute. In addition, in monitoring genetically modified crops, we are conducting research related to surveillance to prevent widespread distribution of genetically modified oilseed rape.
Development of biodiversity and ecosystem databases
We make databases of biodiversity information derived from our research and publish it on the website.


---
Cooperation between natural and social sciences
While research on the conservation of biodiversity and ecosystems tends to be centered on living things and their environments, it is important to estimate the value of biodiversity and ecosystems and establish a society to conserve them. We thus need a research approach from a social scientific viewpoint as well as collaboration with various stakeholders and citizens, including building a social mechanism to enhance the conservation of biodiversity and ecosystems.
Based on this point of view, the Center conducts the following activities.
---