Environmental Specimen Time Capsule Building
In the environmental sample time capsule building, somatic cells, germ cells (sperm, eggs, primordial germ cells, etc.), and tissues of endangered species are cryopreserved as genetic resources. Cryopreservation of genetic resources, so called a genetic resource bank is one of the options of ex-situ conservation activities.

In addition, the genetic resources are used for research activities such as reproductive biology, genetic diversity evaluation, bioresource development and infectious disease ecology.
Overview of the genetic resource banking for endangered species
Genetic resources were collected from 2,994 individuals of 108 species (296 individuals of 21 mammal species, 2,110 individuals of 62 bird species, 6 individuals of 3 reptile species, and 582 individuals of 22 fish species). The genetic resources were packed in specialized plastic tubes and a total of 55,022 tubes were cryopreserved from 2002 to 2016.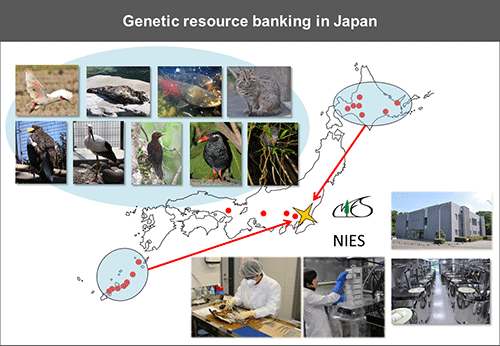 Method for cryopreservation of cells and tissues as genetic resources
| | | | |
| --- | --- | --- | --- |
| A veterinarian conducts postmortem examination to investigate the cause of death. Infectious disease, such as avian influenza, tularemia, leptospirosis, Brucellosis is the most important component of the examination. | When we confirmed bodies are free of pathogens, cell culture and tissue sampling are conducted for cryopreservation. | Pack the cultured cells and tissues in storage tubes. | Transfer the tubes to storage tanks The inside temperature of the tank is maintained at -165 °C with liquid nitrogen vapor. |
Examples of species preserving cells and tissues

Japanese crested ibis
Nipponia nippon
(EW)

Okinawa rail
Gallirallus okinawae
(CR)

Tsushima leopard cat
Prionailurus bengalensis euptilurus
(CR)

Harbor seal
Phoca vitulina
(NT)

Ryukyu long-haired rat
Diplothrix legata
(EN)

Ryukyu Robin
Luscinia komadori namiyei
(EN)

Japanese wood pigeon
Columba janthina janthina
(NT)

Steller's sea eagle
Haliaeetus pelagicus
(VU)

Oriental stork
Ciconia boyciana
(CR)
Wildlife genetic resource database
A list of wildlife cells / tissues / DNA cryopreserved between 2003 and 2013 at the National Institute for Environmental Studies, Environment Sample Time Capsule and a list of DNA samples of wild animals kept at the Kyoto University Wildlife Research Center have been published as a database search system: "wildlife genetic resource database."

2012/7/5 Published as endangered species sample database, renamed photos (individuals, cells, tissues, etc.) to 2014/12/17 wildlife genetic resource database are also released. We do not sell samples.
Establishing Wildlife Genome Collaborative Research Group
We have established a new research group, called Wildlife Genome Collaborative Research Group, to promote research activities using the cryopreserved genetic resources. The group will conduct the following research.
Subtheme 1 『Enhancement of Genetic Resource Storage Bank Function』
Both organizations collect and store frozen genetic resources (cultured cells, tissue specimens, DNA, etc.) from dead individuals and breeding individuals of endangered species (Red Listed Listings of the Ministry of the Environment, Listings of IUCN Red List of Threatened Species etc.). Moreover, in order to minimize the damage of genetic resources due to unpredictable situations, we transfer genetic resources collected as a backup system to each other and freeze it.

(Wildlife Research Center of Kyoto University, Center for Environmental Biology and Ecosystem Studies of NIES)
Subtheme 2 『Promotion of Conservative Genetics Research』
We use genetic resources during cryopreservation to conduct genome analysis of endangered species. Based on the analysis results, we will develop new genetic markers (microsatellite markers, SNP markers etc.) and use them for research on genetic diversity and phylogenetic analysis of threatened species.

(Wildlife Research Center of Kyoto University/Department of Veterinary Medicine, School of Veterinary Medicine, Rakuno Gakuen University/Center for Environmental Biology and Ecosystem Studies of NIES)
Subtheme 3 『Development of Efficient Use of Genetic Resources』
We will develop methods for establishing cell lines and iPS cells from cultured cells derived from threatened species. We will also conduct research on avian species as a model for individual proliferation methods of endangered species, using primordial germ cells.

(Center for Environmental Biology and Ecosystem Studies of NIES/Graduate School of Life and Environmental Sciences, University of Tsukuba/Tohoku University Graduate School of Agricultural Science)