Smart Community Recovering from the Tsunami-Disaster: Case Study of the Community Energy Supply Project in Shinchi Town, Fukushima

Authors:Yujiro HIRANO, Shogo NAKAMURA, Takuya TOGAWA, Tsuyoshi FUJITA, Kenichi ADACHI
Year:2021
Journal:Global Environmental Research, 24 (2), 199-206



CO2 emission reduction, Cogeneration, Community energy management, Distributed power source, District heating and cooling, Reconstruction town development
The present study was aimed at investigating urban reconstruction development in Shinchi Town, which is located on the northeastern coastal edge of Fukushima Prefecture. Shinchi Town experienced major damage from the Great East Japan Earthquake in 2011. Thereafter, an environmentally friendly community energy supply system was planned and introduced as a core project for reconstruction of the town. The National Institute for Environmental Studies, Japan, provided academic support for designing and planning of systems, determining energy conservation and CO2 emission reduction, and feasibility studies. As a part of the project, a community-based energy organization, named Shinchi Smart Energy, was newly established near the town's rebuilt railway station. This organization supplies electric power and heat energy in the area undergoing redevelopment around the station. Shinchi Smart Energy employs a cogeneration system that uses waste heat from electricity generation for heating and hot water provision and an absorption chiller (Genelink), which uses waste heat to chill water for air conditioning, enabling high-efficiency energy management. Evaluation of the project reveals that it is being properly operated at this stage, although the facilities on the demand side have not been fully completed since the arrival of COVID-19 and the resulting socioeconomic impacts. Future studies will focus on furthering the introduction of renewable energy and expanding the area receiving the power supply in Shinchi Town, as well as spreading the knowledge gained from this town to other areas.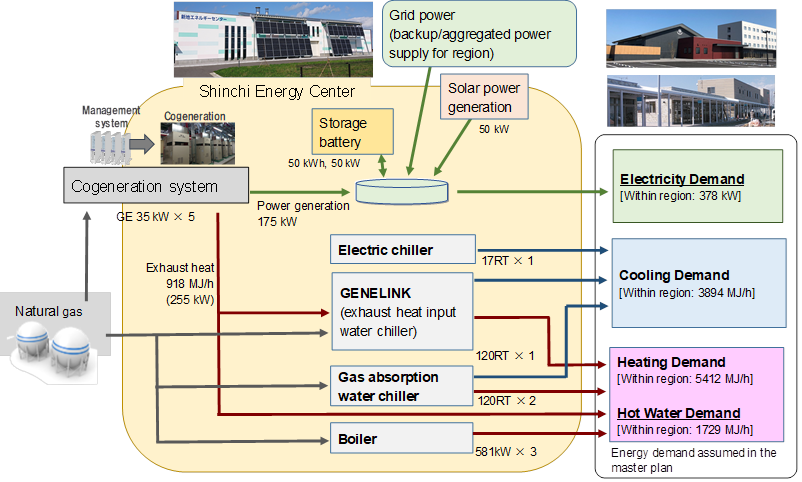 Fig.1 Electricity/heat supply system and energy flow in the Shinchi Energy Center.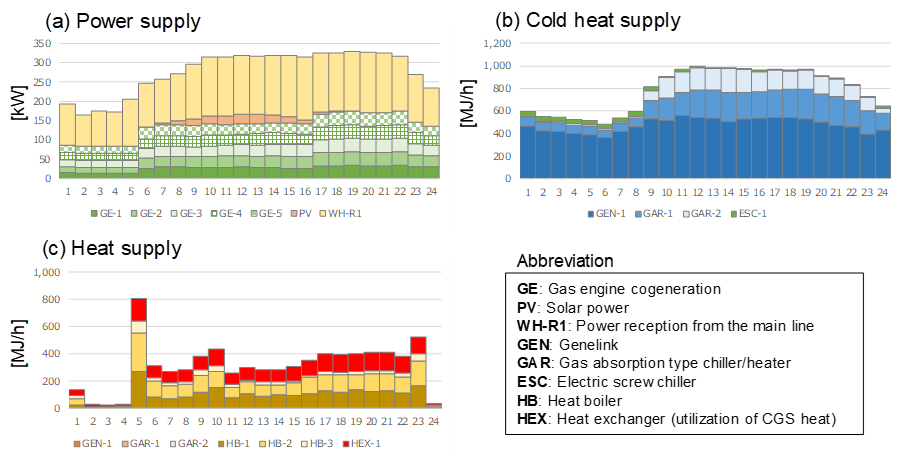 Fig.2 Hourly energy supply in August.