Latest Update:2023/08/16 13:54:02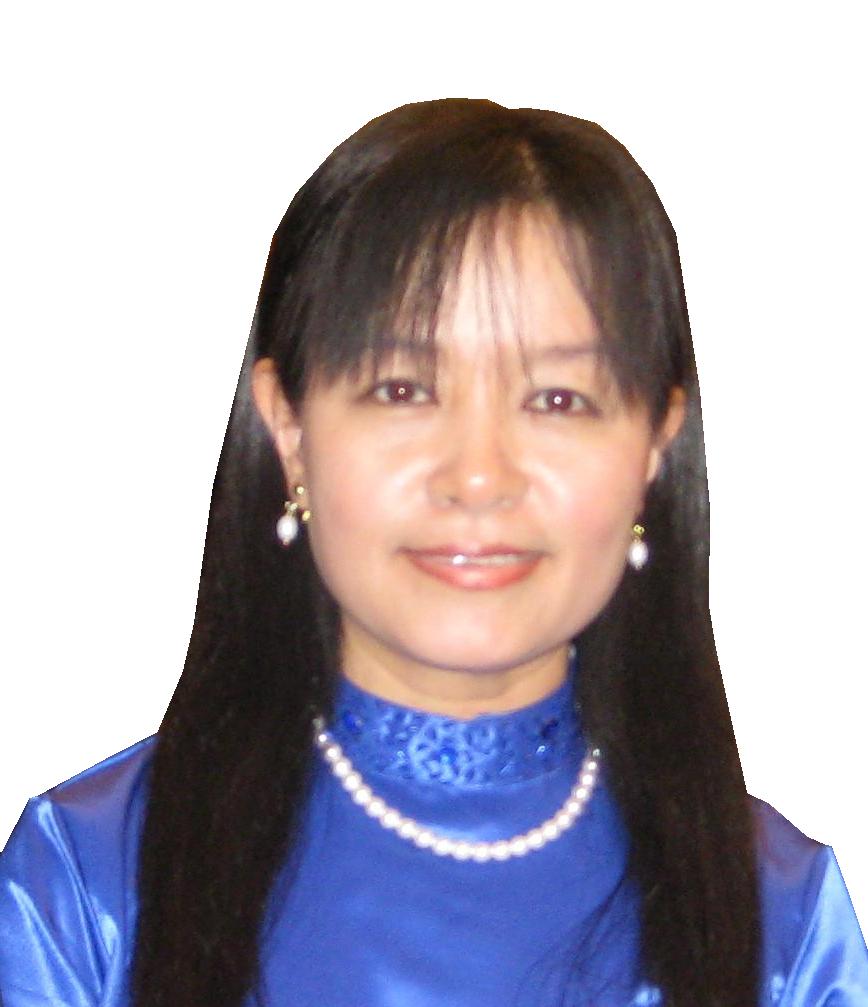 Researcher Name

TIN-TIN-Win-Shwe
Div (Section) name/title

Health and Environmental Risk Division(Molecular Pathology Section)/Senior Research Associate
Research Subject

Analysis of developmental neurotoxicity of environmental chemicals in mice
Degree(s)

M.D., Ph.D (Medical Science)
Professional Qualification(s)

Medicine,Physiology,Biochemistry
Environmental Speciality Field

hazardous chemical substance,atmospheric pollutants,volatile organic compounds
Keyword(s)

in vivo microdialysis in rats and mice,HPLC assay for neurotransmitter assessment,Radioimmunoassay for hormone measurement,Gonadectomization for male and female rats,Intracardiac catheterization and blood sampling,Guide cannula implatation in various brain regions,Dissection and sampling of various brain regions,RNA isolation, DNA synthesis and real-time PCR,Learning behavior assessment by Morris water maze ,Brain perfusion and section using microtome
Brief Description of Research

I have studied the effects of environmental toxic chemicals like volatile organic compounds (VOC) and environmental pollutants like nanoparticles on brain neurotransmitter system and memory-function related gene expression in adult mouse hippocampus and olfactory bulb. I have demonstrated neurotoxic effects of toluene exposure in BALB/c adult mice and two congenic adult mice strains by measuring excitatory amino acid neurotransmitter levels in the hippocampus (Win-Shwe et al., 2007a; 2009). Moreover, I have also shown that the effect of toluene exposure on N-methyl-D-aspartate (NMDA) receptor subunit expression in hippocampus of wild type and nude mice (Win-Shwe et al., 2007c). Regarding nanoparticles, I have already reported that the effects of nanoparticle-rich diesel exhaust on spatial learning and memory function-related gene expression in the mouse hippocampus (Win-Shwe et al., 2008) and on extracellular glutamate level and NMDA receptor subunit expression in the mouse olfactory bulb (Win-Shwe et al., in press). However, I have not examined the developmental neurotoxicity of these substances yet, then, up to now, the mechanism by which toluene or nanoparticle exposure during the brain growth spurt affected cognitive functions and glutamate toxicity are unknown. These situations prompt me to examine the effect and mechanism of toluene or nanoparticle exposure during developmental period with a new novel experimental design. Recently, serious public problems concerning food contamination with agrichemicals occurred in Japan and as where. Organophosphate pesticides (OPs) are used worldwide especially South-East Asia including Myanmar. Among OPs, diazinon is used in order to combat insects and arthropods in agricultural industries. Children may be exposed to that OP by getting the residues on foods or by contacting the contaminated surfaces in houses and gardens. However, there is no study reporting the effects of developmental exposure to diazinon on glutamatergic neurotransmitter system in in vivo experiments. Therefore, using our new experimental model, I emphasize to examine the developmental neurotoxicity following exposure to diazinon.
The current aims of research are to investigate the effect of prenatal and/or
postnatal exposure to nanoparticles, diazinon and toluene on glutamatergic
neurotransmission, related gene expression and learning ability in adult mice and to investigate the possible mechanisms of these three substances. Microdialysis is a novel technique allowing an in vivo measurement of endogenous and exogenous substances in the extracellular fluid surrounding a microdialysis probe implanted into an organ or tissue. Hippocampus is important for spatial memory, but its integrity is also necessary for recognition memory. Novel object recognition task relies on the mouse's natural exploratory behavior and it can be used without stress, technical difficulty and time consuming. Therefore, in the present research, I try to combine these two techniques to establish an experimental model to examine extracellular neurotransmitters and learning ability simultaneously. I expect to measure the extracellular glutamate levels in the hippocampus of adolescent and adult mice while monitoring learning ability in sequentially in different doses following prenatal and/or postnatal exposure to environmental toxicant. Then, I can point out the vulnerable period or critical window for susceptibility of individuals to toxic chemical exposure. I can evaluate the relationship between neurotransmitter system and learning performance. I can also find out the possible mechanism of action of environmental toxicant by using receptor blocker or measuring transporter level. After establishment of this new experimental design, it can be used for assessing the other environmental toxic chemicals in various brain regions for examining higher brain functions.

Career

4/1/1979−3/25/1986---Institute of Medicine 1, Yangon, Myanmar [M. D] (Completion of Medicine, Surgery, Pediatric, Obstetric and Gynecology)
1/4/1987−31/3/1990---Medical Research Officer, WHO project, "Study of the effects of water supply, socio-economic status and sanitation on health in Myanmar rural areas", Department of Medical Research, Ministry of Health, Yangon, Myanmar
1/4/1990−31/3/1995---Assistant Lecturer, Department of Physiology, Institute of Medicine 1, Yangon, Myanmar
4/1/1992−3/25/1995---Institute of Medicine 1, Yangon, Myanmar [M. Med. Sc] Department of Physiology, Institute of Medicine 1, Yangon, Myanmar
1/4/1995−31/3/1998---Lecturer, Department of Physiology, Institute of Medicine 1, Yangon, Myanmar
4/1/1999−3/31/2003---Yokohama City University Graduate School of Medicine, Department of Physiology, [Ph. D]
1/11/2003−31/3/2006---Post-doctoral Fellow, Department of Health Sciences, NIES
1/4/2006−31/3/2008---JSPS Post-doctoral Fellowship for Foreign Researchers, Research Center for Environmental Risk, NIES
1/4/2008−30/3/2011---Research Fellow, Research Center for Environmental Risk, NIES
1/4/2011-up to present---Researcher, Center for Environmental Health Sciences, NIES




Membership of Academic Society

The Japan Neuroscience Society ,American Society for Neuroscience,Japanese Society of Immunotoxicology,Japanese Society for Atmospheric Environment,The Japanese Society of Toxicology
Research Subject

Fiscal Year: 2023

26420 : Research project on the health hazard assessment considering the real-life environment and vulnerability
26655 : Analysis of epigenetic abnormalities transmitted to children by maternal PM2.5 exposure: Study in Myanmar
26662 : Development of an avian in ovo method for evaluating abnormalities in sexual differentiation induced by chemicals and proposal to establish a test guideline
26663 : Survey and study on toxicity test methods for high-order predators by persistent and bioaccumulated chemicals in FY2023

Fiscal Year: 2022

25973 : Research project on the health hazard assessment considering the real-life environment and vulnerability
26077 : Assessment of the effects of single and combined exposure to microplastics and environmental pollutants on the nervous system and neurobehavior
26083 : Basic research on the effects of environmental factors on the onset/progression of diseases
26221 : Analysis of epigenetic abnormalities transmitted to children by maternal PM2.5 exposure: Study in Myanmar

Fiscal Year: 2021

25517 : Research on the health hazard assessment considering the real-life environment and vulnerability
25738 : Basic research on the effects of environmental factors on the onset/progression of diseases
25854 : Relationship between autistic behavior and neuroinflammatory response in rats exposed to air pollutants during the developmental period
25945 : Analysis of epigenetic abnormalities transmitted to children by maternal PM2.5 exposure: Study in Myanmar

Fiscal Year: 2020

25099 : Research Program on Health and Environmental Safety
25141 : Research Project on Health Impacts of Chemicals on Children and Future Generations
25211 : Relationship between autistic behavior and neuroinflammatory response in rats exposed to air pollutants during the developmental period
25236 : A Fundamental Study for Evaluating Health Impact of Environmental Factors
25243 : Comprehensive and systematic study for control/eradication of allergic diseases via environmental and medical approaches

Fiscal Year: 2019

24696 : Research Program on Health and Environmental Safety
24721 : Research Project on Health Impacts of Chemicals on Children and Future Generations
24806 : Relationship between autistic behavior and neuroinflammatory response in rats exposed to air pollutants during the developmental period
24824 : Comprehensive and systematic study for control/eradication of allergic diseases via environmental and medical approaches
24926 : A Fundamental Study for Evaluating Health Impact of Environmental Factors

Fiscal Year: 2018

24304 : Research project on health impacts of chemicals on children and future generations
24355 : Research program on health and environmental safety
24430 : A novel approach for evaluation of environmental pollutant-induced developmental neurotoxicity using non-invasive MRI technique
24433 : Creation of network toward the establishment of environmental research foundation in Myanmar
24445 : Comprehensive and systematic study for control/eradication of allergic diseases via environmental and medical approaches
24531 : A fundamental study for evaluating health impact of environmental factors

Fiscal Year: 2017

23824 : Research project on health impacts of chemicals on children and future generations
23847 : Research program on health and environmental safety
23899 : The relationship between the gut microbiota and modern diseases
23900 : Impact of brominated flame retardants in obesity and obesity-related metabolic disorders
23926 : Investigation on validity of the proposed evaluation method on the effects of chemical substances to developmental disorders using non-invasive MR measurements
23949 : Comprehensive and systematic study for control/eradication of allergic diseases via environmental and medical approaches
23975 : A fundamental study for evaluating health impact of environmental factors
24003 : A novel approach for evaluation of environmental pollutant-induced developmental neurotoxicity using non-invasive MRI technique
24007 : Study of the possible biological effects and medical applications of intermediate frequency electromagnetic fields
24010 : Creation of network toward the establishment of environmental research foundation in Myanmar

Fiscal Year: 2016

23414 : Research program on health and environmental safety
23415 : Research project on health impacts of chemicals on children and future generations
23525 : Impact of brominated flame retardants in obesity and obesity-related metabolic disorders.
23579 : Establishment of multidisciplinary strategy toward comprehensive understanding of developmental neurotoxicity induced by environmental chemicals in house dust
23586 : Investigation on validity of the proposed evaluation method on the effects of chemical substances to developmental disorders using non-invasive MR measurements
23605 : A novel approach for evaluation of environmental pollutant-induced developmental neurotoxicity using non-invasive MRI technique
23607 : Creation of network toward the establishment of environmental research foundation in Myanmar
23657 : Study of the possible biological effects and medical applications of intermediate frequency electromagnetic fields
23659 : A fundamental study for evaluating health impact of environmental factors
23743 : Comprehensive and systematic study for control/eradication of allergic diseases via environmental and medical approaches

Fiscal Year: 2015

23018 : Mechanism and evaluation system of the developmental health effects of environmental factors
23082 : Impact of brominated flame retardants in obesity and obesity-related metabolic disorders.
23116 : Establishment of multidisciplinary strategy toward comprehensive understanding of developmental neurotoxicity induced by environmental chemicals in house dust
23243 : Study of the possible biological effects and medical applications of intermediate frequency electromagnetic fields
23244 : Establishment of neonatal animal model for early detection of environmental pollutant induced-learning disability
23245 : Biological impact evaluation of exposure to electromagnetic fields emitted by mobile phones
23272 : Investigation on validity of the proposed evaluation method on the effects of chemical substances to developmental disorders using non-invasive MR measurements
23277 : Establishment of an international cooperation for promoting arsenic research

Fiscal Year: 2014

22606 : Mechanism and evaluation system of the developmental health effects of environmental factors
22706 : Impact of brominated flame retardants in obesity and obesity-related metabolic disorders.
22722 : Establishment of an international cooperation for promoting arsenic research
22802 : Establishment of multidisciplinary strategy toward comprehensive understanding of developmental neurotoxicity induced by environmental chemicals in house dust
22891 : Health Assessment of PAMAM dendrimer
22948 : Health effects of secondary organic aerosols derived from diesel exhaust.
22980 : Establishment of neonatal animal model for early detection of environmental pollutant induced-learning disability
22981 : Biological impact evaluation of exposure to electromagnetic fields emitted by mobile phones

Fiscal Year: 2013

22190 : Mechanism and evaluation system of the developmental health effects of environmental factors
22238 : Establishment of neonatal animal model for early detection of environmental pollutant induced-learning disability
22239 : Biological impact evaluation of exposure to electromagnetic fields emitted by mobile phones
22279 : Studies on the effects of environmental chemicals on nervous and immunological systems during developmental period
22314 : Impact of brominated flame retardants in obesity and obesity-related metabolic disorders.
22402 : Health Assessment of PAMAM dendrimer
22544 : Establishment of an international cooperation for promoting arsenic research
22570 : Health effects of secondary organic aerosols derived from diesel exhaust.

Fiscal Year: 2012

21761 : Mechanism and evaluation system of the developmental health effects of environmental factors
21808 : Studies on the effects of environmental chemicals on nervous and immunological systems during developmental period
22009 : Health Assessment of PAMAM dendrimer
22149 : Health effects of secondary organic aerosols derived from diesel exhaust.
22237 : Evaluation of the biological effects of intermediate frequency magnetic field exposure during developmental stages

Fiscal Year: 2011

21273 : Studies on the effects of environmental chemicals on nervous and immunological systems during developmental period
21319 : Mechanism and evaluation system of the developmental health effects of environmental factors
21432 : Risk assessment of inhaled nanoparticle rich diesel exhaust focusing the impacts on brain, liver, kidney, and reproductive organs
21434 : Analysis of usefulness of a mouse model for sensitivity in evaluating the toxicity of environmental chemicals

Fiscal Year: 2010

20967 : Risk assessment of inhaled nanoparticle rich diesel exhaust focusing the impacts on brain, liver, kidney, and reproductive organs
20977 : Health risk assessment methods of environmental chemicals that cause sensitivity
20979 : Analysis of usefulness of a mouse model for sensitivity in evaluating the toxicity of environmental chemicals

Fiscal Year: 2006

10288 : Establishing a new sensitive model to assess harmful effects on memory function following exposure to environmental chemicals

Fiscal Year: 2005

9590 : Establishment of in vivo microdialysis study of brain functions during various stages of learning behavior in mouse model

Fiscal Year: 2004

9326 : Determination of neuroimmune functions in mouse exposed to harmful toxic chemicals by in vivo microdialysis
Research Result (Publication)

all
Original Paper
Review
Book
Other Publications
Research Result (Presentation)

all
Research Presentation
Research Lecture

Assessment of immunotoxicity of chemicals considering vulnerability: Focus on Bisphenols

Presenter :

Koike E.

,

Yanagisawa R.

,

Tin-Tin-Win-Shwe

Name of Society :

The 50th Annual Meeting of the Japanese Society of Toxicology (2023)

Name of Proceedings :

Japanese Society of Toxicology, 48:S31

In vivo evaluation of a flame retardant having estrogenic activity using mouse model

Presenter :

Sano K.,

Suzuki G.

, Htike N.T.T., Morishita M.,

Tin-Tin-Win-Shwe

,

Hashimoto S.

,

Kawashima T.

,

Isobe T.

,

Nakayama S.

, Tsukahara S.,

Maekawa F.

Name of Society :

Application of Recent Advances in Neuroscience to Environmental Health Research (2016)

Name of Proceedings :

abstract, 1-4

Studies on the effects of toluene exposure on developing immune system

Presenter :

Tin-Tin-Win-Shwe

, Kunugita N., Yoshida Y., Fujimaki H.

Name of Society :

第18回日本免疫毒性学会学術大会 (2011)

Name of Proceedings :

第18回日本免疫毒性学会学術大会講演要旨集, 64