Home

>

Center for Environmental Biology and Ecosystem Studies
Center for Environmental Biology and Ecosystem Studies
Outline of Research
Research Staff
Database / Tool
Outline of Research
Contributing to the realization of biodiversity conservation and sustainable ecosystem services
We implement research to clarify the relationship between the structure and functions of diverse ecosystems and the impacts of human activities on ecosystems and biodiversity over a variety of spatial and temporal scales.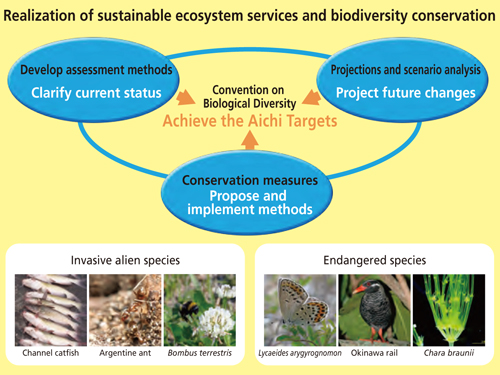 Assessment of species extinction risk
Initiatives to establish effective nature reserves
Prevention and control of invasive alien species
Projections on the response of organisms to climate change
Assessment of impacts on organisms and ecosystems of habitat degradation and toxic substances
Cryopreservation of genetic resources of endangered species
Development of species discrimination techniques using DNA
Long-term ecosystem monitoring (lakes, genetically modified plants, etc.)
Database / Tool
It is possible to refer to the list of strains preserved in the microbial culture collection at NIES, which includes the essential information of the culture strains, the references and image data. Additional information such as how to order, deposit, handle and cultivate strains is also available.
Organization

Center for Environmental Biology and Ecosystem Studies