Research project on multi-scale dynamics of chemicals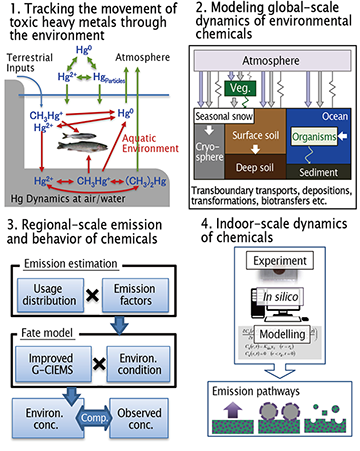 To promote environmental safety, we need to efficiently and effectively manage a large number of chemicals, many of which have unique characteristics. The spatio-temporal scale on which we investigate the dynamics of environmental chemicals depends on each chemical's physico-chemical properties, applications, and effects on human health and the environment.
In this project, we are examining the dynamics of chemicals at various spatio-temporal scales by using state-of-the-art analytical techniques. We are also constructing mathematical models to better understand and predict the concentrations and dynamics of environmental chemicals. We aim to contribute to the development of new methodologies to manage the risks posed by environmental chemicals, as well as develop systems to evaluate the effectiveness of international treaties.
This project comprises four lines of research. The first involves accurate determination of the concentrations and isotopic fingerprints of toxic metals, especially mercury, in environmental samples to determine the sources, species transformation, and processes of bioaccumulation. The second line of research involves constructing models of the fate and transport of pollutants such as persistent organic pollutants and mercury through the atmosphere, oceans, terrestrial compartments, and biosphere on the global scale. The third line of research is the development of methods for estimating the emission levels, improving the Grid-Catchment Integrated Environmental Modeling System regional chemical fate model (G-CIEMS), and validating these methods and model. The fourth line of research is the elucidation and prediction of the pathways through which chemicals are emitted from products in the indoor environment by using experimental, mathematical modeling, and in silico estimation methods.