Research project on comprehensive environmental monitoring methods and networks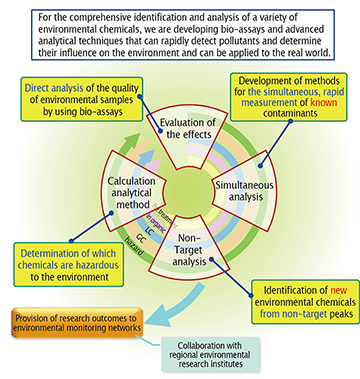 The increasing production and use of chemical substances by industry has led to increases in the release and accumulation of chemicals in the environment. Therefore, new approaches are needed to comprehensively detect known and new hazardous chemicals in the environment. To develop advanced networks for the monitoring of environmental chemicals that affect human health and the environment, this project comprises four lines of research.
In the first line of research, we are developing liquid chromatography/mass spectrometry-based measurement methods to simultaneously detect a wide range of known contaminants. In the second line of research, we are developing high-resolution mass spectrometry-based measurement systems to simultaneously detect and analyze known and new chemicals in the environment. In the third line of research, we are developing a battery of bioassays that can be used to examine the toxicities of mixtures of chemicals in environmental samples. In the fourth line of research, we are developing new mathematical and computational analyses to assess the effects of complex mixtures of chemicals in organisms and the environment.
This project is being conducted in collaboration with several regional environmental research institutes. The new analytical methods developed will be shared with these institutes with the aim of establishing an advanced, systematic environmental monitoring network to assess emerging ecological and health risks posed by chemicals.