Latest Update:2021/09/10 13:36:03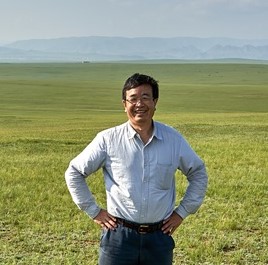 Researcher Name

WANG Qinxue
Div (Section) name/title

Regional Environment Conservation Division/Principal Researcher
Research Subject

Development of systems for observation and evaluation of regional water and material cycles in East Asia
Degree(s)

Ph. D.
Professional Qualification(s)

Geography,Earth Science,Agricultural Science
Environmental Speciality Field

hydrology & water environment,climate change,watershed environment management
Keyword(s)

environmental monitoring system,water and material cycles,watershed management model,remote sensing,GIS,ecosystem sevices,permafrost degradation,global warming impact,land use/cover change,satellite data analysis
Brief Description of Research

The rapid socioeconomic development achieved in East Asian large basins, especially of Changjiang River and Yellow River, has strongly demanded water resources and energy development, and concentration of population and land-use changes associated with the changing industrial structure, have been affecting the ecosystem, water, and material cycles in the watershed areas. In addition, various problems hindering sustainable development, such as floods caused by watershed reconstruction and extreme weather, shortage of drinking and irrigation water by blocked rivers, have been seriously exposed. Thus, it is the most significant issue to promote a better understanding of the interaction involving the watershed ecology, and develop an environment management system which enables the proper management of water and materials.

Until now, I have been working on the development of an interaction model of vegetation, soil, and atmosphere on regional heterogeneous surface, construction of a digital map database using GIS to determine sustainability, and development and assessment of local land productivity models, in the research project on "Land Use for Global Environmental Conservation" supported by Ministry of Environment. Especially, as a part of "Modeling of Ecosystem Function and Sustainable Environmental Management Projects in River Basins in East Asia Regions," I have joined the "Integrated Environmental Monitoring (IEM) Sub-project" of "Asia-Pacific Environmental Innovation Strategy Project (APEIS)" sponsored by Ministry of Environment since 2001, and been devoted to build a MODIS data network covering the whole Asia-Pacific regions, and an ecological observation network on the ground for representative ecosystem types, with the kind support among the project groups and the cooperation of foreign institutes. Moreover, I have improved the NASA's algorithms, such as MODIS land surface temperature of high-order products, land cover dynamics, terrestrial evapotranspiration efficiency for monitoring surface moisture conditions, leaf-area index, and land productivity etc., and validated them with the ground-based observation data. I also have conducted an impact assessment of global warming, increasing use of fertilizer, and expanding irrigated areas, by simulating the water and material cycles in representative areas with terrestrial ecological models. Since 2012, I am leading a policy contribution-oriented research project "Vulnerability Assessment and Adaptation Strategies for Permafrost Regions in Mongolia", supported by the Environment Research and Technology Development Fund (ERTDF: 2E-1203), Ministry of the Environment, Government of Japan.Since 2014, I participated a project on "Development of Innovative Adaptation System and MRV Method for JCM in Mongolia" funded by Ministry of the Environment, Government of Japan, in which I am attempt to assess the amount of CO2 absorbed by the grasslands in Mongolia.
Career

PROFESSIONAL EXPERIENCES

2011-Now
Principle Researcher, Regional Environment Research Center, NIES

2006-2011
Chief, Asian Water Environment Section, NIES

2005-2006
Team Leader, Watershed Environments and Management Research Team, NIES

2002-2005
Senior Researcher, Watershed Environments and Management Research Team, NIES

2001-2002
Post-Doctor Fellow, National Institute for Environmental Studies

1998-2001
Eco-Frontier Fellow, National Institute for Environmental Studies

1998-2001
Foreign Researcher, Graduate School of Environmental Science, Hokkaido University

1989-1998
Researcher, Institute of Geographical Sciences and Natural Resources Research, Chinese Academy of Sciences

EDUCATION

1994-1998
Ph.D. from Graduate School of Environmental Science, Hokkaido University

1986-1989
Master from College of Geography & Environmental Science, Beijing Normal University (China)

1982-1986
Graduated from Department of Geography, Northwest Normal University(China)


URL
Membership of Academic Society

Japan Society of Hydrology & Water Resources (JSHWR) ,Association of Japanese Geographers (AJG),The Ecological Society of America (ESA),Japan Geoscience Union,AGU,Society of Environmetal Science
Research Subject

Fiscal Year: 2020

25127 : Center for Climate Change Adaptation (CCCA)
25128 : Study on Multi-scale Evaluation System for GHG Variation and Mitigation
25302 : Evaluation of the pasture carrying capacity and its vulnerability based on water resources in arid and semi-arid regions

Fiscal Year: 2019

24708 : Study on Multi-scale Evaluation System for GHG Variation and Mitigation
24757 : Center for Climate Change Adaptation (CCCA)
25061 : CO2 sequestration by rangeland in Mongolia
25062 : Evaluation of the pasture carrying capacity and its vulnerability based on water resources in arid and semi-arid regions

Fiscal Year: 2018

24291 : Study on multi-scale evaluation system for GHG variation and mitigation
24340 : Climate Change Strategy Collaboration Office
24457 : Evaluation of the pasture carrying capacity and its vulnerability based on water resources in arid and semi-arid regions
24472 : CO2 Sequestration by Rangeland in Mongolia

Fiscal Year: 2017

23837 : Study on multi-scale evaluation system for GHG variation and mitigation
23861 : Climate Change Strategy Collaboration Office
24117 : CO2 Sequestration by Rangeland in Mongolia

Fiscal Year: 2016

23399 : Study on multi-scale evaluation system for GHG variation and mitigation
23679 : CO2 Sequestration by Rangeland in Mongolia

Fiscal Year: 2015

23005 : Analyses of the impact of the anthropogenic pollution on the ecosystem of the East China Sea and the sea around Japan
23311 : CO2 Sequestration by Rangeland in Mongolia

Fiscal Year: 2014

22593 : Analyses of the impact of the anthropogenic pollution on the ecosystem of the East China Sea and the sea around Japan
22639 : Vulnerability assessment and its adaptation strategies in permafrost region of Mongolia

Fiscal Year: 2013

22177 : Analyses of the impact of the anthropogenic pollution on the ecosystem of the East China Sea and the sea around Japan
22258 : Vulnerability assessment and its adaptation strategies in permafrost region of Mongolia

Fiscal Year: 2012

21748 : Analyses of the impact of the anthropogenic pollution on the ecosystem of the East China Sea and the sea around Japan
21838 : Algorithm Development of Land Surface Evapotranspiration based on GCOM-C1
21839 : Vulnerability assessment and its adaptation strategies in permafrost region of Mongolia
22045 : Observational data collection for impact assessment in East Asia

Fiscal Year: 2011

21306 : Analyses of the impact of the anthropogenic pollution on the ecosystem of the East China Sea and the sea around Japan
21629 : Algorithm Development of Land Surface Evapotranspiration based on GCOM-C1
21662 : Observational data collection for impact assessment in East Asia
21712 : Development of the systems for evaluating regional water and material cycles in East Asia

Fiscal Year: 2010

21078 : Integrative Environmental Planning and Evaluation System to Design Environmental Policy and Technology Scenarios for Asian Metropolitan Cities
21163 : Development of the systems for evaluating regional water and material cycles in East Asia
21165 : Establishment of Early Detection Network of the Global Warming Impacts
21171 : Algorithm Development of Land Surface Evapotranspiration based on GCOM-C1
21211 : Watershed environment management based on the coexistence with nature in Ise Bay
21212 : Development of integrated environmental management for Changjiang River basin to conserve the sound environmental conditions in East China Sea

Fiscal Year: 2009

20593 : Integrative Environmental Planning and Evaluation System to Design Environmental Policy and Technology Scenarios for Asian Metropolitan Cities
20599 : Development of the systems for evaluating regional water and material cycles in East Asia
20600 : Establishment of Early Detection Network of the Global Warming Impacts
20682 : Development of integrated environmental management for Changjiang River basin to conserve the sound environmental conditions in East China Sea
20783 : Watershed environment management based on the coexistence with nature in Ise Bay

Fiscal Year: 2008

20231 : Development of the systems for evaluating regional water and material cycles in East Asia
20232 : Establishment of Early Detection Network of the Global Warming Impacts
20265 : Integrative Environmental Planning and Evaluation System to Design Environmental Policy and Technology Scenarios for Asian Metropolitan Cities
20336 : Watershed environment management based on the coexistence with nature in Ise Bay

Fiscal Year: 2007

10545 : Establishment of Early Detection Network of the Global Warming Impacts
10547 : Watershed environment management based on the coexistence with nature in Ise Bay
10587 : Development of the systems for evaluating regional water and material cycles in East Asia

Fiscal Year: 2006

10284 : Establishment of Early Detection Network of the Global Warming Impacts
10286 : Watershed environment management based on the coexistence with nature in Ise Bay
10320 : Development of the systems for evaluating regional water and material cycles in East Asia

Fiscal Year: 2005

9329 : Study on mathematical model of environmental management of river catchment
9350 : Research project on integrated environmental management aided by modelling of eco-system functions through the basin in East Asia(1) Environmental monitoring in Asian Pacific regions using satellite data
9351 : Research project on integrated environmental management aided by modelling of eco-system functions through the basin in East Asia(2) Research on systems analysis on watershed environmens and its application
9597 : The study on Environmental Monitoring and Environmental Database in urban and basin scale

Fiscal Year: 2004

8936 : Study on mathematical model of environmental management of river catchment
8986 : Research project on integrated environmental management aided by modelling of eco-system functions through the basin in East Asia(1) Environmental monitoring in Asian Pacific regions using satellite data

Fiscal Year: 2003

8600 : Study on mathematical model of environmental management of river catchment
8704 : Research project on integrated environmental management aided by modelling of eco-system functions through the basin in East Asia(2) Research on systems analysis on watershed environmens and its application
Research Result (Publication)

all
Original Paper
Book
Other Publications
Research Result (Presentation)

all
Research Presentation
Research Lecture

Presenter :

Nakayama T.

,

Wang Q-X.

,

Okadera T.

, Batkhishig O., Bayarsaikhan U.

Name of Society :

XIII International Conference on Environment and Sustainable Development of the Mongolian Plateau and Surrounding Territories (2020)

Name of Proceedings :

Abstracts, 268-272

Presenter :

Wang Q-X.

,

Okadera T.

,

Nakayama T.

, BATKHISHIG O., Dorjgotov B.

Name of Society :

XIII International Virtual Conference on Environment and Sustainable Development of the Mongolian Plateau and Surrounding Territories (ICOMP2020) (2020)

Name of Proceedings :

Proceedings, 217-220

Presenter :

Wang Q-X.

Name of Society :

JpGU-AGU Joint Meeting 2020 (2020)

Name of Proceedings :

Abstracts, HCG24-05

Presenter :

Wang Q-X.

,

Okadera T.

,

Nakayama T.

, Batkhishig O., Battogtokh D., Bayasaikhan U.

Name of Society :

5th International Forum on Sustainable Future in Asia - Fostering a Healthy and Sustainable Environment to Achieve the Sustainable Development Goals (2020)

Name of Proceedings :

Proceedings

Research Presentation

Impacts of Land Use/Cover Changes on Pasture Carrying Capacity and its Vulnerability in Mongolia

Presenter :

Wang Q-X.

,

Okadera T.

,

Nakayama T.

, Batkhishig O., Battogtokh D., Bayasaikhan U.

Name of Society :

The Second International Conference of Environmental Science and Technology (EST-2019) (2019)

Name of Proceedings :

Proceedings, 30

Presenter :

Wang Q-X.

,

Okadera T.

,

Nakayama T.

, Eerdeni, Batkhishig O., Battogtokh D., Bayasaikhan U.

Name of Society :

JpGU Meeting 2019 (2019)

Name of Proceedings :

Proceedings, HCG28:P03

Presenter :

Nakayama T.

,

Wang Q-X.

,

Okadera T.

, Eer Deni

Name of Society :

International Society for Ecological Modelling Global Conference 2019 (2019)

Name of Proceedings :

Abstract

Research Lecture

A Brief Introduction on Tokyo Bay Renaissance Projects

Presenter :

Wang Q-X.

Name of Society :

2nd INTERNATIONAL DELTA FORUM & Symposium on Ecological・Agriculture・Science and Technology in the Yellow River Delta (2019)

Name of Proceedings :

-

Presenter :

Okadera T.

,

Wang Q-X.

, Eerdeni,

Nakayama T.

Name of Society :

th International Forum on Sustainable Future in Asia/ 4th NIES International Forum (2019)

Name of Proceedings :

Program, 102

Presenter :

Wang Q-X.

Name of Society :

GLP Asia Conference 2018 ---Transitioning to Sustainable Development of Land Systems through Teleconnections and Telecouplings (2018)

Name of Proceedings :

Abstracts, 70

Presenter :

Liu, X.,

Wang Q-X.

Name of Society :

JpGU Meeting 2018 (2018)

Name of Proceedings :

Abstracts, HCG22-04

Presenter :

Ai Z.,

Wang Q-X.

, Yang Y.

Name of Society :

Japan Geoscience Union Meeting 2018 (2018)

Name of Proceedings :

Abstracts, HCG22-P01

Presenter :

Wang Q-X.

,

Okadera T.

, Eerdeni, Batkhishig O.

Name of Society :

JpGU Meeting 2018 (2018)

Name of Proceedings :

Abstracts, HCG22-08

Presenter :

Wang Q-X.

Name of Society :

The 18th Conference of Science Council of Asia (SCA) "Role of Science for Society: Strategies towards SDGs in Asia" (2018)

Name of Proceedings :

-, ISBN:978-4-60000044-8 C

Presenter :

Wang Q-X.

Name of Society :

NARO-MARCO International Symposium on Nitrogen Cycling and Its Environmental Impacts in East Asia (2018)

Name of Proceedings :

-, 47

Presenter :

Wang Q-X.

,

Okadera T.

, Eerdeni, Watanabe M., Batkhishig O., Battogtokh D., Wu T.

Name of Society :

International Workshop on Environmental Vulnerability and Adaptation Strategies in Arid and Semi-arid Regions (2018)

Name of Proceedings :

-

Presenter :

Okadera T.

, Eerdeni,

Wang Q-X.

Name of Society :

International Workshop on Environmental Vulnerability and Adaptation Strategies in Arid and Semi-arid Regions (2018)

Name of Proceedings :

-

Presenter :

Wang Q-X.

,

Okadera T.

, Eerdeni, Watanabe M., Batkhishig O., Battogtokh D., Wu T.

Name of Society :

3rd International Forum On Sustainable Future in Asia- 3rd NIES International Forum (2018)

Name of Proceedings :

Abstracts, 27

Research Lecture

Water scarcity and power generation in arid and semi-arid regions: A case of Mongolia

Presenter :

Okadera T.

, Eerdeni,

Wang Q-X.

Name of Society :

A JSPS (Japan) and DST (lndia) Bilateral Joint Research Seminar Knowledge sharing workshop on adopting Water-Energy-Food Nexus Approach in India (2017)

Name of Proceedings :

-

Presenter :

Wang Q-X.

,

Okadera T.

, Eerdeni, Watanabe M., Batkshishig O.

Name of Society :

Understanding the impact of land-atmosphere exchanges - 5th iLEAPS Science Conference (2017)

Name of Proceedings :

Abstracts, 5:269

Presenter :

Wang Q-X.

,

Okadera T.

, Eerdeni, Watanabe M., Batkhishig O.

Name of Society :

Workshop on Carbon Fluxes & Sequestration in the Ecosystems of Mongolia (2017)

Name of Proceedings :

-

Presenter :

Eerdeni,

Wang Q-X.

,

Okadera T.

Name of Society :

JpGU-AGU Joint Meeting 2017 (2017)

Name of Proceedings :

Abstracts

Presenter :

Wang Q-X.

Name of Society :

JpGU-AGU Joint Meeting 2017 (2017)

Name of Proceedings :

Abstracts, 2017(HCG29):03

Presenter :

Wang Q-X.

Name of Society :

JpGU-AGU Joint Meeting 2017 (2017)

Name of Proceedings :

Abstracts, 2017(HCG27):07

Presenter :

Wang Q-X.

,

Okadera T.

, Eerdeni, Watanabe M., Batkhishig O.

Name of Society :

JpGU-AGU Joint Meeting 2017 (2017)

Name of Proceedings :

Abstracts, 2017(MIS03):1

Research Presentation

A remotely sensed evapotranspiration model for complex terrain conditions: algorithm and initial validation

Presenter :

Zhipin A.,

Wang Q-X.

, Yang Y.

Name of Society :

The Study Meeting of the AJG Spring 2017 (2017)

Name of Proceedings :

Abstracts, (91):215

Presenter :

Wang Q-X.

, Watanabe M., Batkhishig O., Battogtokh D., Wu T.

Name of Society :

China-Mongolia-Japan Trilateral Workshop on Combating Desertification and Permafrost Research (2017)

Name of Proceedings :

-

Presenter :

Wang Q-X.

,

Okadera T.

, Eerdeni, Watanabe M., Batkhishig O.

Name of Society :

THE 3rd INTERNATIONAL CONFERENCE ON "NATURAL CONDITIONS AND TERRITORIAL ASPECTS INFLUENCING THE SOCIOECONOMIC DEVELOPMENTS" (2017)

Name of Proceedings :

Proceedings, II:103-106

Research Presentation

Grassland productivity under different grazing systems for the JCM-MRV project

Presenter :

Eerdeni,

Wang Q-X.

,

Okadera T.

, Ochirbat Batkhishig

Name of Society :

Joint seminar on water and carbon management in mining industry areas in Mongolia for the JCM-MRV project (2016)

Name of Proceedings :

-

Presenter :

Okadera T.

, Eerdeni,

Wang Q-X.

, Watanabe M.

Name of Society :

The Joint conference of the International Society for Industrial Ecology (ISIE) 12th Socio-Economic Metabolism section conference and 5th Asia-Pacific conference (2016)

Name of Proceedings :

Program, 77-78

Presenter :

Wang Q-X.

, Watanabe M., Batkhishig O.

Name of Society :

33rd International Geographical Congress (2016)

Name of Proceedings :

Book of Abstracts, 3189-3190

Research Lecture

Water demand by the power stations for the JCM-MRV project

Presenter :

Okadera T.

, Eerdeni,

Wang Q-X.

Name of Society :

Joint seminar on water and carbon management in mining industry areas in Mongolia for the JCM-MRV project (2016)

Name of Proceedings :

-

Presenter :

Wang Q-X.

, Xiao Q.,

Koshikawa H.

Name of Society :

日本地球惑星科学連合2016年大会 (2016)

Name of Proceedings :

Abstracts, 2016(HSC04-05)

Presenter :

Wang Q-X.

, Watanabe M., Batkhishig O.,

Okadera T.

, Eerdeni

Name of Society :

日本地球惑星科学連合2016年大会 (2016)

Name of Proceedings :

Abstracts, 2016(U05-10)

Presenter :

Wang Q-X.

,

Okadera T.

, Eerdeni, Batkhishig O., Watanabe M.

Name of Society :

The 3rd Future Earth Water-Energy-Food Nexus Workshop "Governance transformation and integrated information for the W-E-F Nexus" (2016)

Name of Proceedings :

Proceedings, 17-18

Presenter :

Okadera T.

, Eerdeni,

Wang Q-X.

, Watanabe M.

Name of Society :

The 12th Biennial International Conference on EcoBalance (EcoBalance 2016) (2016)

Name of Proceedings :

Abstract book, 82

Presenter :

Okadera T.

, Eerdeni,

Wang Q-X.

Name of Society :

Workshop on Nexus-based Catchment Environmental Management for Future Asia (2016)

Name of Proceedings :

-

Research Lecture

Water demand for power generation and water resources in Ulaanbaatar

Presenter :

Okadera T.

, Eerdeni,

Wang Q-X.

Name of Society :

Brain storming workshop on the JCM project (2016)

Name of Proceedings :

-

Presenter :

Wang Q-X.

, Watanabe M., Batkshishig O.,

Okadera T.

, Eerdeni, Xiao Q.

Name of Society :

16th National Conference and global Forum on Science, Policy and the Environment (2016)

Name of Proceedings :

Conference Program, 110-112

Research Lecture

A Study on Nitrogen and Phosphorus Pollution and its Reduction Strategies in the Yangtze River Basin

Presenter :

Wang Q-X.

, Xiao Q.,

Koshikawa H.

,

Higashi H.

, Liu C., Wang K-L., Song X-F., Ye M.

Name of Society :

Pollution Process and Control of Nitrogen and Phosphorus in River Basin (2015)

Name of Proceedings :

-

Presenter :

Wang Q-X.

, Sun Z-G., Watanabe M., Batkhishig O.

Name of Society :

100th ESA Annual Meeting (2015)

Name of Proceedings :

Abstracts, 100(COS 135-6)

Presenter :

Wang Q-X.

Name of Society :

FUT International Symposium on New Approach for Studying Environment in Hokuruku (2015)

Name of Proceedings :

Abstract, 2

Presenter :

Wang Q-X.

, Xiao Q.,

Koshikawa H.

,

Higashi H.

, Liu C., Wang K-L., Song X-F., Ye M.

Name of Society :

The 3rd International Symposium on Sustainable Agriculture for Subtropical Regions (ISSASR-3 2015) (2015)

Name of Proceedings :

-

Research Presentation

CO2 Sequestration by Rangeland in Mongolia

Presenter :

Wang Q-X.

, Xiao Q., Eerdeni,

Okadera T.

, Watanabe M., Batkhishig O.

Name of Society :

International workshop on Adaptation for Climate Change and Green Development in Mongolia (2015)

Name of Proceedings :

-

Presenter :

Wang Q-X.

Name of Society :

BIT's 4th Low Carbon Earth Summit-2014 (2014)

Name of Proceedings :

Abstracts, 042

Presenter :

Wang Q-X.

Name of Society :

BIT's 4th Annual New Energy Forum-2014 (2014)

Name of Proceedings :

Abstracts, 099

Presenter :

Okadera T.

,

Wang Q-X.

, Ochirbat Batkhishig

Name of Society :

4th Asian Conference on Sustainability, Energy and the Environment 2014 (2014)

Name of Proceedings :

Program of ACSS2014/ACSEE2014, 31

Presenter :

Wang Q-X.

,

Okadera T.

, Watanabe M., Yan W-L.

Name of Society :

The 4th Asia-Pacific Climate Change Adaptation Forum (2014)

Name of Proceedings :

Abstracts, 117-118

Presenter :

Wang Q-X.

, Xiao Q.,

Okadera T.

, Watanabe M., Batkhishig O.

Name of Society :

Moving from 'climate' to 'sustainability', IARU Sustainability Science Congress (2014)

Name of Proceedings :

Abstracts

Presenter :

Wang Q-X.

, Xiao Q., Liu C., Wang K-L., Ye M.

Name of Society :

3rd Biennial Symposium of International Society for River Science (2013)

Name of Proceedings :

The 3rd Biennial Symposium of International Society for River Science Achieving healthy and viable rivers Conference Proceedings, 32-41

Presenter :

Wang Q-X.

, Watanabe M., Batkhishig O., Chuluun T.,

Okadera T.

, Yan W-L., Wu T-H., Liu J-Y.

Name of Society :

IX international conference ENVIRONMENT AND SUSTAINABLE DEVELOPMENT IN MONGOLIAN PLATEAU AND SURROUNDING REGIONS (2013)

Name of Proceedings :

Proceedings of the IX international conference, 2:26-29

Presenter :

Sun Z.,

Wang Q-X.

, Watanabe M., Batkhishig O.

Name of Society :

9th international conference of "Environment and Sustainable Development in Mongolian Plateau and Surrounding Regions" (2013)

Name of Proceedings :

Proceedings of the IX international conference, 1:89-92

Presenter :

Wu T-H., Zhao L.,

Wang Q-X.

, Wu Q-B., Li R., Batkhishig O.

Name of Society :

9th international conference ENVIRONMENT AND SUSTAINABLE DEVELOPMENT IN MONGOLIAN PLATEAU AND SURROUNDING REGIONS (2013)

Name of Proceedings :

Proceedings of the IX international conference ENVIRONMENT AND SUSTAINABLE DEVELOPMENT IN MONGOLIAN PLATEAU AND SURROUNDING REGIONS, 63-67

Presenter :

Wang Q-X.

, Liu C., Ye M., Otsubo K.

Name of Society :

GWSP Conference 2013 (2013)

Name of Proceedings :

Water in the Anthropocene: Challenges for Science and Governance. Indicators, Thresholds and Uncertainties of the Global Water System, 66-67

Presenter :

Wang Q-X.

Name of Society :

6th International Nitrogen Conference (2013)

Name of Proceedings :

Conference Abstract, 6(8)

Presenter :

C. Liu, C.J. Zou,

Wang Q-X.

, Y. Hayashi, T. Yasunari

Name of Society :

6th International Nitrogen Conference (2013)

Name of Proceedings :

Conference Abstract, 6(133)

Presenter :

Higashi H.

,

Koshikawa H.

,

Wang Q-X.

,

Mizuochi M.

, Hasegawa T., Kiyomoto Y., Nishiuchi K., Okamura K., Sasaki H., Gomi Y., Akiyama H., Kohata K., Murakami S.

Name of Society :

PICES 2012 Annual Meeting (2012)

Name of Proceedings :

Abstracts, 208

Research Presentation

Biogeochemical forest model for evaluation of ecosystem services (BGC-ES) and its application in the Ise Bay basin

Presenter :

Oba M.

, Fujita T.,

Mizuochi M.

, Murakami S.,

Wang Q-X.

, Kohata K.

Name of Society :

The 18th Biennial Conference of International Society for Ecological Modelling (2011)

Name of Proceedings :

Abstracts of The 18th Biennial Conference of International Society for Ecological Modelling, 128

Presenter :

Oba M.

, Murakami S.,

Mizuochi M.

,

Wang Q-X.

, Kohata K.

Name of Society :

Int.Symp.Agric.Meteorol.(ISAM 2010) (2011)

Name of Proceedings :

Proceedings, 133

Research Presentation

Carbon and nitrogen dynamics in the subtropical agricultural ecosystem in China

Presenter :

Wang Q-X.

, Xiao Q., Liu C.

Name of Society :

2nd Int.Symp.Sustainable Agric.Subtrop.Regions (ISSASR-2) (2010)

Name of Proceedings :

Abstracts, 115-116

Research Presentation

Anthropogenic influences on nitrogen flow and water environment in agro-ecosystems of Changjiang River Basin

Presenter :

Liu C.,

Wang Q-X.

Name of Society :

2nd Int.Symp.Sustainable Agric.Subtrop.Regions (ISSASR-2) (2010)

Name of Proceedings :

Abstracts, 98

Presenter :

Wu T.,

Wang Q-X.

, Zhao L. , Du E., Wang W., Xie C., Batkhishig O., Dorjgotov B., Watanabe M.

Name of Society :

Int.Jt.Conf.CliC/IACS: Cryospheric changes and influences-cryospheric issues in regional sustainable development (2010)

Name of Proceedings :

Abstracts, 30

Research Presentation

Dynamics of permafrost distribution due to climate change in Mongolia

Presenter :

Wang Q-X.

, Wu T., Xiao Q., Watanabe M., Batkhishig O., Liu J-Y.

Name of Society :

Int.Jt.Conf.CliC/IACS: Cryospheric changes and influences-cryospheric issues in regional sustainable development (2010)

Name of Proceedings :

Abstacts, 25-28

Presenter :

Wang Q-X.

Name of Society :

Global Water Syst.Proj.(GWSP) GCI Conf.2010: The Global Dimensions of Change in River Basins - Threats, Linkages and Adaptation (2010)

Name of Proceedings :

Abstracts, PS2-071

Presenter :

Wang Q-X.

Name of Society :

Hydrol.Conf.2010 (2010)

Name of Proceedings :

Abstracts, O3.1

Presenter :

Sun Z. ,

Wang Q-X.

, Matsushita, B, Fukushima, T., Ouyang, Z., Gebremichael, M.

Name of Society :

AGU Fall Meeting 2009 (2009)

Name of Proceedings :

Abstracts, #H51B-0769

Presenter :

Wu T-H.,

Wang Q-X.

, Batkhishig O., Dorjgotov B., Watanabe M.

Name of Society :

5th Int.Conf.Nat.Resour.Sustainable Dev.Surrounding Reg.Mong.Plateau (2009)

Presenter :

Wang Q-X.

, Watanabe M., Liu J-Y., Dorjgotov D. , Batkhishig O.

Name of Society :

5th Int.Conf.Nat.Resour.Sustainable Dev.Surrounding Reg.Mong.Plateau (2009)

Presenter :

Wang Q-X.

, Watanabe M., Xiao Q., Wu T., Liu J.

Name of Society :

Clim.Change Congr.2009 (2009)

Name of Proceedings :

IOP Conf.Series: Earth and Environmental Science, 6(9):92026

Research Presentation

Evaluation of forest ecosystem services in the Ise-bay basin by using of a GIS-based biogeochemical model

Presenter :

, ,

WANG Qinxue

Name of Society :

Int.Symp.Agric.Meteorol.(ISAM 2008) (2008)

Name of Proceedings :

Program

Research Presentation

Evaluation of water,carbon and nitrogen dynamics by an integrated hydro-ecosystem model coupled with Remote-sensing data and GIS

Presenter :

WANG Qinxue

Name of Society :

1st China-Jpn.River Basin Water Environ.Workshop (2006)

Name of Proceedings :

Proceedings

Research Presentation

Monitoring and simulating water,carbon and nitrogen dynamics over catchments in Eastern Asia

Presenter :

WANG Qinxue

Name of Society :

2006 Jt.Assem. (2006)

Name of Proceedings :

Abstracts(Web)

Research Presentation

Comparison of retreving dry edge methods in VI-Ts space using ASTER data in the North China Plain

Presenter :

Sun Z.(*1),

Wang Q-X.

, Fukushima T.(*1), Matsushita B.(*1), Ouyang Z.(*2), Watanabe M.(*3)

Name of Society :

5th Workshop Remote Sensing Hydrol.Processes Appl. (2006)

Name of Proceedings :

Proceedings

Research Presentation

Simulation of water,carbon and nitrogen cycles over Changjiang River Basin in China

Presenter :

WANG Qinxue

Name of Society :

ESSP 2006 OSC (2006)

Name of Proceedings :

Proceedings(CD-ROM)

Research Presentation

Synaergetic use of MODIS,ASTER/TM data for land cover classification in arid and semi-arid area of North China

Presenter :

Hasi B.(*1),

Wang Q-X.

, Yasuoka Y., Watanabe M.(*2)

Name of Society :

27th Asian Conf.Remote Sensing (2006)

Research Presentation

Validation of MODIS LAI product in Asia-Pacific region based on the APEIS-FLUX Measurements.

Presenter :

Wang Q.-X.

, Murakami S.

Name of Society :

12th Annu.Conf.Chin.Ecol.Res.Network(CERN) (2004)

Name of Proceedings :

Proceedings

GIS-based approach to evaluate possible increase of corp production in Northern and Northeastern China

Presenter :

Wang Q-X.

, Ostubo K.

Name of Society :

Global Change Open Sci.Conf. (2001)

Name of Proceedings :

Abstracts

Future balance of grain production and consumption in China by GIS techiques

Grassland degredation and recent increase of strong dust storms in China

Presenter :

Wang Q-X.

, Ostubo K.

Name of Society :

Open Sysp."Change Sustainability Pastoral Land Use Syst.Temp.Cent.Asia" (2001)

Name of Proceedings :

Abstracts

Modeling of climate change impact on grassland productivity in northern China

Presenter :

Ostubo K.,

Wang Q-X.

Name of Society :

Open Sysp."Change Sustainability Pastoral Land Use Syst.Temp.Cent.Asia" (2001)

Name of Proceedings :

Abstracts

Models of domestic food flow in China due to stock and economic gradient

Presenter :

Ichinose T.(Toshiaki)

,

Wang Q-X.

, Ostubo K.

Name of Society :

Int.Symp.LUCC Contribution Asian Environ.Probl. (2001)

Name of Proceedings :

Book of Abstracts LUCC Symp.2001(CD-ROM)

Presenter :

Nakayama T.

,

Wang Q-X.

,

Okadera T.

, Batkhishig O., Bayarsaikhan U.

Name of Society :

XIII International Conference on Environment and Sustainable Development of the Mongolian Plateau and Surrounding Territories (2020)

Name of Proceedings :

Abstracts, 268-272

Presenter :

Wang Q-X.

,

Okadera T.

,

Nakayama T.

, BATKHISHIG O., Dorjgotov B.

Name of Society :

XIII International Virtual Conference on Environment and Sustainable Development of the Mongolian Plateau and Surrounding Territories (ICOMP2020) (2020)

Name of Proceedings :

Proceedings, 217-220

Presenter :

Wang Q-X.

Name of Society :

JpGU-AGU Joint Meeting 2020 (2020)

Name of Proceedings :

Abstracts, HCG24-05

Presenter :

Wang Q-X.

,

Okadera T.

,

Nakayama T.

, Batkhishig O., Battogtokh D., Bayasaikhan U.

Name of Society :

5th International Forum on Sustainable Future in Asia - Fostering a Healthy and Sustainable Environment to Achieve the Sustainable Development Goals (2020)

Name of Proceedings :

Proceedings

Impacts of Land Use/Cover Changes on Pasture Carrying Capacity and its Vulnerability in Mongolia

Presenter :

Wang Q-X.

,

Okadera T.

,

Nakayama T.

, Batkhishig O., Battogtokh D., Bayasaikhan U.

Name of Society :

The Second International Conference of Environmental Science and Technology (EST-2019) (2019)

Name of Proceedings :

Proceedings, 30

Presenter :

Wang Q-X.

,

Okadera T.

,

Nakayama T.

, Eerdeni, Batkhishig O., Battogtokh D., Bayasaikhan U.

Name of Society :

JpGU Meeting 2019 (2019)

Name of Proceedings :

Proceedings, HCG28:P03

Presenter :

Nakayama T.

,

Wang Q-X.

,

Okadera T.

, Eer Deni

Name of Society :

International Society for Ecological Modelling Global Conference 2019 (2019)

Name of Proceedings :

Abstract

Presenter :

Wang Q-X.

Name of Society :

GLP Asia Conference 2018 ---Transitioning to Sustainable Development of Land Systems through Teleconnections and Telecouplings (2018)

Name of Proceedings :

Abstracts, 70

Presenter :

Liu, X.,

Wang Q-X.

Name of Society :

JpGU Meeting 2018 (2018)

Name of Proceedings :

Abstracts, HCG22-04

Presenter :

Wang Q-X.

,

Okadera T.

, Eerdeni, Batkhishig O.

Name of Society :

JpGU Meeting 2018 (2018)

Name of Proceedings :

Abstracts, HCG22-08

Presenter :

Wang Q-X.

Name of Society :

The 18th Conference of Science Council of Asia (SCA) "Role of Science for Society: Strategies towards SDGs in Asia" (2018)

Name of Proceedings :

-, ISBN:978-4-60000044-8 C

Presenter :

Wang Q-X.

,

Okadera T.

, Eerdeni, Watanabe M., Batkshishig O.

Name of Society :

Understanding the impact of land-atmosphere exchanges - 5th iLEAPS Science Conference (2017)

Name of Proceedings :

Abstracts, 5:269

Presenter :

Wang Q-X.

Name of Society :

JpGU-AGU Joint Meeting 2017 (2017)

Name of Proceedings :

Abstracts, 2017(HCG29):03

A remotely sensed evapotranspiration model for complex terrain conditions: algorithm and initial validation

Presenter :

Zhipin A.,

Wang Q-X.

, Yang Y.

Name of Society :

The Study Meeting of the AJG Spring 2017 (2017)

Name of Proceedings :

Abstracts, (91):215

Presenter :

Wang Q-X.

,

Okadera T.

, Eerdeni, Watanabe M., Batkhishig O.

Name of Society :

THE 3rd INTERNATIONAL CONFERENCE ON "NATURAL CONDITIONS AND TERRITORIAL ASPECTS INFLUENCING THE SOCIOECONOMIC DEVELOPMENTS" (2017)

Name of Proceedings :

Proceedings, II:103-106

Grassland productivity under different grazing systems for the JCM-MRV project

Presenter :

Eerdeni,

Wang Q-X.

,

Okadera T.

, Ochirbat Batkhishig

Name of Society :

Joint seminar on water and carbon management in mining industry areas in Mongolia for the JCM-MRV project (2016)

Name of Proceedings :

-

Presenter :

Okadera T.

, Eerdeni,

Wang Q-X.

, Watanabe M.

Name of Society :

The Joint conference of the International Society for Industrial Ecology (ISIE) 12th Socio-Economic Metabolism section conference and 5th Asia-Pacific conference (2016)

Name of Proceedings :

Program, 77-78

Presenter :

Wang Q-X.

, Watanabe M., Batkhishig O.

Name of Society :

33rd International Geographical Congress (2016)

Name of Proceedings :

Book of Abstracts, 3189-3190

Presenter :

Wang Q-X.

, Xiao Q.,

Koshikawa H.

Name of Society :

日本地球惑星科学連合2016年大会 (2016)

Name of Proceedings :

Abstracts, 2016(HSC04-05)

Presenter :

Wang Q-X.

, Watanabe M., Batkhishig O.,

Okadera T.

, Eerdeni

Name of Society :

日本地球惑星科学連合2016年大会 (2016)

Name of Proceedings :

Abstracts, 2016(U05-10)

Presenter :

Wang Q-X.

,

Okadera T.

, Eerdeni, Batkhishig O., Watanabe M.

Name of Society :

The 3rd Future Earth Water-Energy-Food Nexus Workshop "Governance transformation and integrated information for the W-E-F Nexus" (2016)

Name of Proceedings :

Proceedings, 17-18

Presenter :

Okadera T.

, Eerdeni,

Wang Q-X.

, Watanabe M.

Name of Society :

The 12th Biennial International Conference on EcoBalance (EcoBalance 2016) (2016)

Name of Proceedings :

Abstract book, 82

Presenter :

Wang Q-X.

, Watanabe M., Batkshishig O.,

Okadera T.

, Eerdeni, Xiao Q.

Name of Society :

16th National Conference and global Forum on Science, Policy and the Environment (2016)

Name of Proceedings :

Conference Program, 110-112

Presenter :

Wang Q-X.

, Sun Z-G., Watanabe M., Batkhishig O.

Name of Society :

100th ESA Annual Meeting (2015)

Name of Proceedings :

Abstracts, 100(COS 135-6)

CO2 Sequestration by Rangeland in Mongolia

Presenter :

Wang Q-X.

, Xiao Q., Eerdeni,

Okadera T.

, Watanabe M., Batkhishig O.

Name of Society :

International workshop on Adaptation for Climate Change and Green Development in Mongolia (2015)

Name of Proceedings :

-

Presenter :

Wang Q-X.

Name of Society :

BIT's 4th Low Carbon Earth Summit-2014 (2014)

Name of Proceedings :

Abstracts, 042

Presenter :

Wang Q-X.

Name of Society :

BIT's 4th Annual New Energy Forum-2014 (2014)

Name of Proceedings :

Abstracts, 099

Presenter :

Okadera T.

,

Wang Q-X.

, Ochirbat Batkhishig

Name of Society :

4th Asian Conference on Sustainability, Energy and the Environment 2014 (2014)

Name of Proceedings :

Program of ACSS2014/ACSEE2014, 31

Presenter :

Wang Q-X.

,

Okadera T.

, Watanabe M., Yan W-L.

Name of Society :

The 4th Asia-Pacific Climate Change Adaptation Forum (2014)

Name of Proceedings :

Abstracts, 117-118

Presenter :

Wang Q-X.

, Xiao Q., Liu C., Wang K-L., Ye M.

Name of Society :

3rd Biennial Symposium of International Society for River Science (2013)

Name of Proceedings :

The 3rd Biennial Symposium of International Society for River Science Achieving healthy and viable rivers Conference Proceedings, 32-41

Presenter :

Wang Q-X.

, Watanabe M., Batkhishig O., Chuluun T.,

Okadera T.

, Yan W-L., Wu T-H., Liu J-Y.

Name of Society :

IX international conference ENVIRONMENT AND SUSTAINABLE DEVELOPMENT IN MONGOLIAN PLATEAU AND SURROUNDING REGIONS (2013)

Name of Proceedings :

Proceedings of the IX international conference, 2:26-29

Presenter :

Sun Z.,

Wang Q-X.

, Watanabe M., Batkhishig O.

Name of Society :

9th international conference of "Environment and Sustainable Development in Mongolian Plateau and Surrounding Regions" (2013)

Name of Proceedings :

Proceedings of the IX international conference, 1:89-92

Presenter :

Wu T-H., Zhao L.,

Wang Q-X.

, Wu Q-B., Li R., Batkhishig O.

Name of Society :

9th international conference ENVIRONMENT AND SUSTAINABLE DEVELOPMENT IN MONGOLIAN PLATEAU AND SURROUNDING REGIONS (2013)

Name of Proceedings :

Proceedings of the IX international conference ENVIRONMENT AND SUSTAINABLE DEVELOPMENT IN MONGOLIAN PLATEAU AND SURROUNDING REGIONS, 63-67

Presenter :

Wang Q-X.

, Liu C., Ye M., Otsubo K.

Name of Society :

GWSP Conference 2013 (2013)

Name of Proceedings :

Water in the Anthropocene: Challenges for Science and Governance. Indicators, Thresholds and Uncertainties of the Global Water System, 66-67

Presenter :

Wang Q-X.

Name of Society :

6th International Nitrogen Conference (2013)

Name of Proceedings :

Conference Abstract, 6(8)

Presenter :

C. Liu, C.J. Zou,

Wang Q-X.

, Y. Hayashi, T. Yasunari

Name of Society :

6th International Nitrogen Conference (2013)

Name of Proceedings :

Conference Abstract, 6(133)

Carbon and nitrogen dynamics in the subtropical agricultural ecosystem in China

Presenter :

Wang Q-X.

, Xiao Q., Liu C.

Name of Society :

2nd Int.Symp.Sustainable Agric.Subtrop.Regions (ISSASR-2) (2010)

Name of Proceedings :

Abstracts, 115-116

Anthropogenic influences on nitrogen flow and water environment in agro-ecosystems of Changjiang River Basin

Presenter :

Liu C.,

Wang Q-X.

Name of Society :

2nd Int.Symp.Sustainable Agric.Subtrop.Regions (ISSASR-2) (2010)

Name of Proceedings :

Abstracts, 98

Presenter :

Wu T.,

Wang Q-X.

, Zhao L. , Du E., Wang W., Xie C., Batkhishig O., Dorjgotov B., Watanabe M.

Name of Society :

Int.Jt.Conf.CliC/IACS: Cryospheric changes and influences-cryospheric issues in regional sustainable development (2010)

Name of Proceedings :

Abstracts, 30

Dynamics of permafrost distribution due to climate change in Mongolia

Presenter :

Wang Q-X.

, Wu T., Xiao Q., Watanabe M., Batkhishig O., Liu J-Y.

Name of Society :

Int.Jt.Conf.CliC/IACS: Cryospheric changes and influences-cryospheric issues in regional sustainable development (2010)

Name of Proceedings :

Abstacts, 25-28

Presenter :

Wang Q-X.

Name of Society :

Global Water Syst.Proj.(GWSP) GCI Conf.2010: The Global Dimensions of Change in River Basins - Threats, Linkages and Adaptation (2010)

Name of Proceedings :

Abstracts, PS2-071

Presenter :

Wang Q-X.

Name of Society :

Hydrol.Conf.2010 (2010)

Name of Proceedings :

Abstracts, O3.1

Presenter :

Sun Z. ,

Wang Q-X.

, Matsushita, B, Fukushima, T., Ouyang, Z., Gebremichael, M.

Name of Society :

AGU Fall Meeting 2009 (2009)

Name of Proceedings :

Abstracts, #H51B-0769

Presenter :

Wu T-H.,

Wang Q-X.

, Batkhishig O., Dorjgotov B., Watanabe M.

Name of Society :

5th Int.Conf.Nat.Resour.Sustainable Dev.Surrounding Reg.Mong.Plateau (2009)

Presenter :

Wang Q-X.

, Watanabe M., Liu J-Y., Dorjgotov D. , Batkhishig O.

Name of Society :

5th Int.Conf.Nat.Resour.Sustainable Dev.Surrounding Reg.Mong.Plateau (2009)

Evaluation of forest ecosystem services in the Ise-bay basin by using of a GIS-based biogeochemical model

Presenter :

, ,

WANG Qinxue

Name of Society :

Int.Symp.Agric.Meteorol.(ISAM 2008) (2008)

Name of Proceedings :

Program

Evaluation of water,carbon and nitrogen dynamics by an integrated hydro-ecosystem model coupled with Remote-sensing data and GIS

Presenter :

WANG Qinxue

Name of Society :

1st China-Jpn.River Basin Water Environ.Workshop (2006)

Name of Proceedings :

Proceedings

Monitoring and simulating water,carbon and nitrogen dynamics over catchments in Eastern Asia

Presenter :

WANG Qinxue

Name of Society :

2006 Jt.Assem. (2006)

Name of Proceedings :

Abstracts(Web)

Comparison of retreving dry edge methods in VI-Ts space using ASTER data in the North China Plain

Presenter :

Sun Z.(*1),

Wang Q-X.

, Fukushima T.(*1), Matsushita B.(*1), Ouyang Z.(*2), Watanabe M.(*3)

Name of Society :

5th Workshop Remote Sensing Hydrol.Processes Appl. (2006)

Name of Proceedings :

Proceedings

Simulation of water,carbon and nitrogen cycles over Changjiang River Basin in China

Presenter :

WANG Qinxue

Name of Society :

ESSP 2006 OSC (2006)

Name of Proceedings :

Proceedings(CD-ROM)

Synaergetic use of MODIS,ASTER/TM data for land cover classification in arid and semi-arid area of North China

Presenter :

Hasi B.(*1),

Wang Q-X.

, Yasuoka Y., Watanabe M.(*2)

Name of Society :

27th Asian Conf.Remote Sensing (2006)

Validation of MODIS LAI product in Asia-Pacific region based on the APEIS-FLUX Measurements.

Presenter :

Wang Q.-X.

, Murakami S.

Name of Society :

12th Annu.Conf.Chin.Ecol.Res.Network(CERN) (2004)

Name of Proceedings :

Proceedings

Presenter :

Okadera T.

,

Wang Q-X.

, Eerdeni,

Nakayama T.

Name of Society :

th International Forum on Sustainable Future in Asia/ 4th NIES International Forum (2019)

Name of Proceedings :

Program, 102

Presenter :

Ai Z.,

Wang Q-X.

, Yang Y.

Name of Society :

Japan Geoscience Union Meeting 2018 (2018)

Name of Proceedings :

Abstracts, HCG22-P01

Presenter :

Wang Q-X.

Name of Society :

NARO-MARCO International Symposium on Nitrogen Cycling and Its Environmental Impacts in East Asia (2018)

Name of Proceedings :

-, 47

Presenter :

Eerdeni,

Wang Q-X.

,

Okadera T.

Name of Society :

JpGU-AGU Joint Meeting 2017 (2017)

Name of Proceedings :

Abstracts

Presenter :

Wang Q-X.

Name of Society :

JpGU-AGU Joint Meeting 2017 (2017)

Name of Proceedings :

Abstracts, 2017(HCG27):07

Presenter :

Wang Q-X.

,

Okadera T.

, Eerdeni, Watanabe M., Batkhishig O.

Name of Society :

JpGU-AGU Joint Meeting 2017 (2017)

Name of Proceedings :

Abstracts, 2017(MIS03):1

Presenter :

Wang Q-X.

, Xiao Q.,

Okadera T.

, Watanabe M., Batkhishig O.

Name of Society :

Moving from 'climate' to 'sustainability', IARU Sustainability Science Congress (2014)

Name of Proceedings :

Abstracts

Presenter :

Higashi H.

,

Koshikawa H.

,

Wang Q-X.

,

Mizuochi M.

, Hasegawa T., Kiyomoto Y., Nishiuchi K., Okamura K., Sasaki H., Gomi Y., Akiyama H., Kohata K., Murakami S.

Name of Society :

PICES 2012 Annual Meeting (2012)

Name of Proceedings :

Abstracts, 208

Biogeochemical forest model for evaluation of ecosystem services (BGC-ES) and its application in the Ise Bay basin

Presenter :

Oba M.

, Fujita T.,

Mizuochi M.

, Murakami S.,

Wang Q-X.

, Kohata K.

Name of Society :

The 18th Biennial Conference of International Society for Ecological Modelling (2011)

Name of Proceedings :

Abstracts of The 18th Biennial Conference of International Society for Ecological Modelling, 128

Presenter :

Oba M.

, Murakami S.,

Mizuochi M.

,

Wang Q-X.

, Kohata K.

Name of Society :

Int.Symp.Agric.Meteorol.(ISAM 2010) (2011)

Name of Proceedings :

Proceedings, 133

Presenter :

Wang Q-X.

, Watanabe M., Xiao Q., Wu T., Liu J.

Name of Society :

Clim.Change Congr.2009 (2009)

Name of Proceedings :

IOP Conf.Series: Earth and Environmental Science, 6(9):92026