Home

>

NIES International Forum

>

4th International Forum
4th International Forum on Sustainable Future in Asia
4th NIES International Forum
January 23-24, 2019
Pan Pacific Hanoi, Hanoi, Vietnam

Online registration is closed.
Thank you very much for your interest in our international forum.
We are sorry that the online registration is closed.


Registration
Date
January 23-24, 2019
Venue
Pan Pacific Hanoi, Hanoi, Vietnam
Registration
Free. Online registration is closed.
Organizer
National Institute for Environmental Studies (NIES - Japan)
Co-organizers
The University of Tokyo Institutes for Advanced Study, Integrated Research System for Sustainability Science (IR3S, UTokyo - Japan)
AIT Regional Resource Center for Asia and the Pacific (AIT RRC.AP -Thailand)
Vietnam Japan University (VJU - Vietnam)
Contact
National Institute for Environmental Studies (NIES)
16-2 Onogawa, Tsukuba, Ibaraki 305-8506 JAPAN
E-mail: forum_2018@nies.go.jp
Background and Objectives
The National Institute for Environmental Studies (NIES) is undertaking a broad range of environmental research toward the realization of sustainable societies. To disseminate the outcomes of this research at NIES and to bridge the gaps between science and policy, in 2016 NIES initiated the Forum on Sustainable Future in Asia in collaboration with the University of Tokyo and the Asian Institute of Technology. The 4th International Forum on Sustainable Future in Asia will be held in Vietnam on January 23 and 24, 2019. The aim of the forum is to create a foundation for a consortium of relevant institutions and governments in the region that will facilitate the exchange of knowledge gained through research and catalyze dialogue at the policy–research interface in the spheres of environmental management and sustainable development in Asia.
Session Overview
1. Research into Practice: A multi-disciplinary approach to solid waste management research with the aim of reducing flood risk in Asian cities
The flooding that often happens after high-intensity precipitation in urban areas is caused mainly by a lack of drainage capacity. One of the common causes of urban flood in Asian cities is the blockage of drainage by inappropriate disposal of solid waste. This session introduces research into the mechanisms by which solid wastes block drainage systems and proposes science-based guidance on the periodic maintenance of drainage systems as a public service. Through clarification of the institutional and psychological factors that discourage residents and businesses from disposing of waste appropriately, ways of improving current waste management systems and policies will be discussed.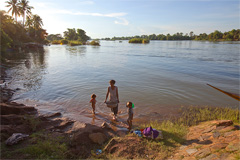 2. New strategies for adaptation of the Mekong River watershed to environmental change
In this session, we have invited prominent researchers from each country included in the Mekong watershed to report on the adaptation strategies being implemented against climate change. The catchphrase is "a new adaptation strategy to support a sustainable society in Southeast Asia." Specifically, we will report on, and discuss, the following three items:
1) high-level evaluation of the present situation with open data
2) a future regional design that combines green infrastructure and gray infrastructure
3) strategic consensus-building based on wide-area risk analysis and evaluation.
We will use the findings from these discussions to exchange information and realize a more resilient community as a fresh and innovative measure for mitigating climate change.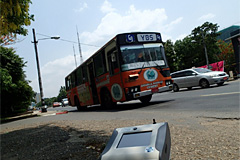 3. Our Environment, Our Health: Improving public health through research on the environment in Asian Countries
Concern over the state of the environment is growing rapidly worldwide. Industrialization and urbanization, along with economic development, have led to sharp increases in energy consumption and waste production. Environmental changes and exposure to environmental contaminants damage health in various ways, and it is time to take action and control these problems. Novel approaches, such as new monitoring and screening techniques, are needed to help us better understand how combinations of contaminants and environmental changes influence human health and determine which combinations are the most harmful or require urgent study. In this session, we will introduce recent research findings regarding environmental changes and exposure to environmental contaminants in Asian countries. We will also host a discussion to foster collaboration between NIES and Asian countries and thus promote the development of an Environmental Research Network.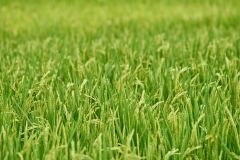 4. Integrated Reseach Session: Climate change adaptation and mitigation/ SDGs (TBD)
Global society is faced with "transformation points" along the path to decarbonization, as well as the need to ensure that there are regions of resilience against the rapidly growing risks of climate change. The growing economies of Asia are certain to be vulnerable to climate risks. Adaptive and mitigative measures are being considered with increased urgency as solutions that facilitate smarter growth of the economy and public welfare in response to scientific forecasting of global warming impacts. While promoting appropriate actions, we also need to focus on alternative mechanisms of strengthening suitable measures through networking and the reduction of vulnerability through cooperation. Science alone cannot provide solutions, and it is important for scientists to work closely with their governments to promote appropriate policy actions. Synergetic actions bridging adaptation and mitigation will be discussed interactively in this session. The session will approach these issues from both sides in discussing how to synergize adaptation and mitigation actions in Asia.
Updated on Dec. 28, 2018. Please note that this program is tentative and subject to change.
Opening Session and Keynote Speeches
8:30-9:50
Dr. Chiho Watanabe (President, National Institute for Environmental Studies)
Dr. Jun Nakajima (Special Advisor to the Rector, Co-Director of Master Program of Environmental Engineering, Vietnam Japan University)
Prof. Keisuke Fukushi (Professor, Integrated Research System for Sustainability Science, Institutes for Advanced Study, The University of Tokyo, Japan)
Mr. Naoya Tsukamoto (Director, AIT Regional Resource Centre for Asia and the Pacific, Thailand)

Keynote Speeches

8:50-9:50

Prof. Mai Trọng Nhuan (Former President of Vietnam National University, Hanoi)
Prof. Motoo Furuta (Rector of Vietnam-Japan University)


Group Photo and Coffee Break

9:50-10:05
Session 1
10:05-12:45
Research into Practice"- Multi-disciplinary approach of solid waste management research towards flood risk reduction in Asian urban cities
Session Coordinator and Chair

Dr. Tomonori Ishigaki (NIES)

Session keynote lecture

Synergies of Urban Adaptation to Flood Risk, Public Open Space and Solid Waste Management
Dr. Vilas Nitivattananon (AIT)

Presentations

Urban Flood Caused by Inappropriate Waste Management in Asia: Adaptation to Climate Change
Dr. Tomonori Ishigaki (NIES)
Solid Waste Characterization in Bangkok Canals and its Impact to Drainage Function of Combined Sewer System
Dr. Chart Chiemchaisri (Kasetsart University)
Experimentation of Solid Waste Blockage in Drainage System: Effect of Waste Material and Flow Velocity
Mr. Rawit Thaweesub (Rangsit University)
Numerical Simulation on Drainage Capacity Loss at a Bar Screen Blocked by Wastes in a Canal
Dr. Kosuke Nakamura (NIES)

Break

Presentations

Factors Related to Waste Disposal Behaviour of Residents near Canals
Ms. Rieko Kubota (NIES)
Appropriate Management of Construction and Demolition Waste to Prevent Waterway Blockage
Ms. Han Hoang (NIES)

Panel Discussion

Flash Poster Presentation Part 1

12:45-13:15

Poster Session / Lunch

13:15-14:30
Session 2
14:30-17:50
New strategies for adaptation of the Mekong River watershed to environmental change
Session coordinator

Dr. Satoshi Kameyama, Dr. Manabu Onuma, Dr. Naishen Liang (NIES)

Chair

Dr. Naishen Liang (NIES)

Session keynote Lecture

New Adaptation Strategies to Support a Sustainable Watershed Management in Asia
Dr. Satoshi Kameyama (NIES)

Presentations

Study on Coastal Protection and Production Functions of Mangrove Vegetation in Thanh Phu Natural Reserve, Mekong Delta, Vietnam
Dr. Nguyen Thi Kim Cuc(Vietnam National University)
The Mekong River Basin under Environmental Change: Evidence from Modeling Studies
Dr. Sangam Shrestha (AIT)
Health Vulnerabilities, and Response Preparedness of Myanmar (Migrant) Women to Climate Change and Variability in Golden Triangle Area, Greater Mekong Sub-region
Dr. Wynn Htut Aung (Thammasat University)
SEAP: a Spatial data Exploration and Analysis Platform for Monitoring Environment Change
Dr. Bui Quang Hung (Vietnam National University)

Coffee Break

Presentations

Open data can Play a Key Role in Informing Discussion and Decision-making around Climate Change
Mr. Try Thy (Open Development Cambodia)
Air Pollution Monitoring Using Low-cost Sensor Network, a Case Study in Hanoi, Vietnam
Dr. Thi Nhat Thanh Nguyen (Vietnam National University)
Environmental Changes Monitoring and Assessment in Lancang River Basin under Impact of Hydropower Development
Prof. Ying Lu (Yunnan University)
Coastal Adaptation Mixing Gray and Green Infrastructures to Climate Change in Vietnam
Dr. Makoto Tamura (Ibaraki University)

Discussion
Session 3
8:30-11:50
Our Environment, Our Health: Improving public health through research on the environment in Asian countries
Session Coordinator and Chair

Dr. Le Ke Son (Vietnam Association of Occupational Safety and Health)
Dr. Shoji F. Nakayama and Dr. Tin Tin Win Shwe (NIES)



Greeting from Chairperson

Dr. Le Ke Son (Vice Chairman of Vietnam Association of Occupational Safety and Health, Former Vice Director General, Vietnam Environmental Administration)

Session keynote lecture

How is our Environment related with our Health?
Dr Chiho Watanabe (President, NIES)

Presentations

Site-specific Bioaccumulation of PCDD/PCDFs in Mothers and their Infants Living in Vicinity of Bien Hoa Airbase, Southern Vietnam
Dr Nguyen Hung Minh (Vietnam Environment Administration)
Environmental Pollutants and their Health Effects in Myanmar
Prof. Ohn Mar (University of Medicine 1, Myanmar)
Pesticides Use in Thailand and Developmental Effects on Children
Dr. Tippawan Prapamontol (Chiang Mai University)
Environmental Arsenic Exposure and Human Health in the Mekong River Basin of Cambodia
Dr Kongkea Phan (International University, Cambodia)

Coffee Break

Presentations

Air Pollution and their Health Efects in Monglia
Dr. Dr. Otgonjargal Damdinbaljir (National Centre of Public Health, Ministry of Health, Mongolia)
Haze Situation in Lao PDR
Dr. Ketkesone Phrasisombath (University of Health Sciences, Laos)
Safety Managed Water Services beyond SDG
Dr. Ikuro Kasuga (Vietnam Japan University)
Heat Stress Impact on Urban Population in Asian Countries -Case of Japan and Vietnam
Dr. Marcin Pawel Jarzebski (IR3S, UTokyo)

Panel discussion about Potential Collaboration

Flash Poster Presentation Part 2

11:50-12:20

Poster Session / Lunch

12:20-13:40
Session 4
13:40-16:40
Integrated Reseach : Strategic research for societal transformation and Sustainable Development Goals
Session coordinator and Chair

Prof. Kensuke Fukushi (IR3S, UTokyo) and Prof. Tsuyoshi Fujita (NIES)

Session keynote lecture

Challenge to the Future Society: How to Attack a Complex Problem
Prof. Akimasa Sumi (UTokyo)

Presentations

International Collaboration in Climate Change Adaptation for Local Government
Prof. Kensuke Fukushi (IR3S, UTokyo)
Addressing Climate Change in the Water Sector: The study of small Run-of-river Hydro Power Potential in Vu Gia - Thu Bon River Basin of Vietnam
Dr. Lan Huong Nguyen (National University of Civil Engineering, Vietnam)
Building Endogenous Capacity in Asia and the Pacific to Access Climate Finance
Dr. Naoya Tsukamoto (AIT RRC.AP)

Coffee break

Presentations

Climate Change Adaptation in the Agricultural Sector: An Asian Perspective
Dr. Avishek Datta (AIT)
Mainstreaming Climate Change Adaptation and Mitigation into Sub-National's Medium & Long-term Development Plan
Prof. Rizaldi Boer (Bogor Agricultural University)
Integrative Research for Strategic Project Design toward Sustainable Development Goals in Asian Cities
Prof. Tsuyoshi Fujita (NIES)
Wrap-Up and Closing Session
16:40-17:30
Session Wrap-Up

Annoucement of Awarded Posters

Closing Remarks

Dr. Hideo Harasawa (Vice President, NIES)