Research Station for Preservation and Enhancement of the Water Environment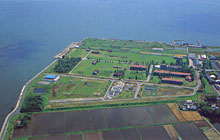 The Kasumigaura Lakeside Laboratory is located on shores of lake Kasumigaura. The laboratory grounds have an area of 16.87 acres (7 hectares). This facility is a field laboratory for researching the causes of eutrophication in inland waters, and how to prevent it. It is used as a field research base for Kasumigaura, its influent rivers, and underground water. It also serves as an experimental research facility for studying the effects of pollutants and contaminants on the eutrophication using lake and underground water, restoration of water quality in polluted lakes utilizing aquatic life, microorganisms, and undersoil treatment, and various lake-water purification processes using various treatment methods. The facility is also equipped with a administration center, conference rooms, and rest facilities inside the lab administration building for facility maintenance purposes and also for the promotion of smooth research.
Global Environmental Monitoring Stations - Hateruma and Cape Ochi-ishi-
Monitoring facilities for greenhouse gases – the cause of global warming - are located on Hateruma Island in the Yaeyama Islands of Okinawa, and Cape Ochi-ishi on the Nemuro Peninsula of Hokkaido. The former is located at the southernmost inhabited point and the latter at the furthest point to the northeast of Japan. These locations were selected for reasons of the minimal degree of influence exerted on them by Man. Hateruma station on the southernmost inhabited island of Japan, and monitors the baseline atmosphere (atmosphere which has been subject to the minimal influence due to human activities) in the Pacific and subtropical region. In contrast, Cape Ochi-ishi is located at the furthest point northeast in Japan, and is tasked with monitoring the baseline atmosphere of the Pacific region during summertime, and the Siberian region during wintertime.
At both stations, greenhouse gases - such as carbon dioxide, methane, nitrous oxide, ozone and mono nitrogen oxides - as well as suspended particulate matters, radon, and weather factors are monitored automatically, and associated data is relayed to the relevant research divisions at NIES. The operational status of the measuring instruments is also automatically conveyed.