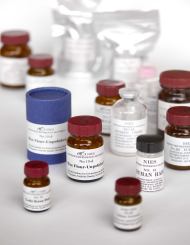 Environmental Certified Reference Materials (CRMs) are utilized to evaluate new analytical methods and to control the accuracy of pretreatment and instrumental analyses.

National Institute for Environmental Studies (NIES) have been preparing and distributing environmental and biological CRMs since 1980.

At present, 17 CRMs are available (including 1 CRM which cannot be sent overseas).

National Institute for Environmental Studies
Health and Environmental Risk Division
Center for Environmental Standards and Measurement/CRM
16-2 Onogawa, Tsukuba-Shi, Ibaraki, 305-8506 Japan
E-mail: nies.crm(a)nies.go.jp ※Change '(a)' to '@'
FAX: +81-29-850-2900
What's New
2022-12-20

Out-of-stock: NIES CRM No.13, Human Hair

NIES CRM No.13, Human Hair, was developed to evaluate the accuracy of analytical values and methods for methylmercury, total mercury, and other trace elements in human hair.
Due to the stock-out of NIES CRM No.13, distribution of this CRM ended in December, 2022.
We are currently developing a new CRM, successor to No.13, with the aim of starting distribution in FY2024. We apologize for any inconvenience this may cause to our users and ask for your understanding.


2022-12-20

Please be announced that our office will be closed from December 24th 2022 to January 5th 2023 for New year's Holiday. We will resume our business from January 6th, 2023.
We wish you a wonderful holiday season, and all the best for the New Year.


2022-8-23

The expiry date of NIES CRM No.30 Gobi Kosa Dust has been extended to September 2032 based on the stability evaluation.
Index
NIES CRMs
※These are newly produced CRM successors.