Home

>

NIES International Advisors
NIES International Advisors
Suggestions and comments on activities of the National Institute for Environmental Studies (NIES) by prominent experts from an international viewpoint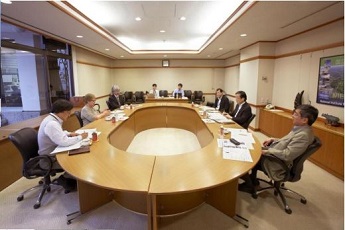 In order to evaluate the activities of the institute from an international viewpoint in a dynamic, efficient and effective manner, the National Institute for Environmental Studies (NIES) is currently inviting international experts, in the diverse fields of environmental research with which NIES is engaged, to visit the institute, in order to benefit from their comments and suggestions on NIES' activities of importance.

Specifically, experts affiliated with, for example, world-renowned environmental research institutes are invited to NIES, where they are first introduced to the institutional structure and provided with an overview of the research content. They then observe the actual sites where research is conducted in the relevant field(s) which most closely correspond to their field(s) of specialization.

Subsequently, by means of discussion between the advisor, the office of the NIES President, and researchers in their fields of specialization, we benefit from their comments and suggestions on the institutional structure, research strategy, and their particular research fields, from an international viewpoint.