Home

>

Interdisciplinary approaches to sustainable development in Asia
2019-5-21
Interdisciplinary approaches to sustainable development in Asia
NIES International Forum Report, Part 5
In this session, seven researchers at the forefront of their fields discussed what we need to think about and act on to build sustainable societies.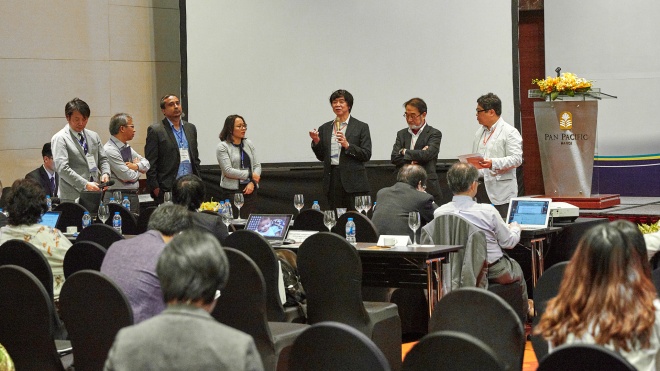 Session 4 discussion session
Session 4: Integrated Reseach: Strategic research for societal transformation and Sustainable Development Goals
Different people are likely to have different ideas about what exactly the words "sustainable society" stand for. The presenters in this session explained and discussed what they considered to be important in building a sustainable society.

An aspect that was emphasized throughout the session was the importance of linkage, including linkage between disciplines, between diverse stakeholders, between the latest technologies and everyday life, between science and policymaking, and between long-term and short-term goals. Presenters also discussed importance of managing funds to enable the achievement of sustainable societies.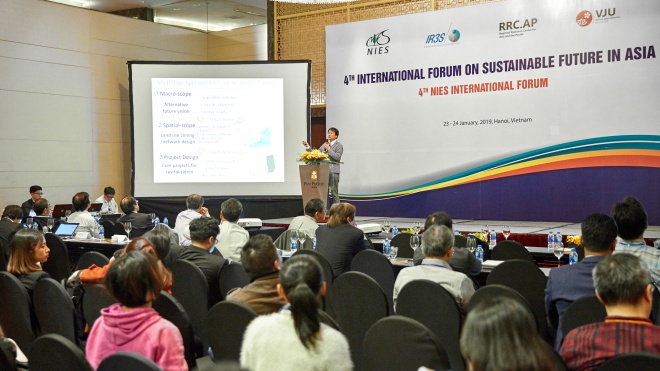 Session 4 presentation
Issues raised in the panel discussion included the potential of big data playing an increasingly important role, and the need to convert the kind of scientific findings shared at the Forum into a form that could be applied broadly to everyday life.

The next report, which will be the last, will provide an overview of the poster session and a final wrap-up.

Written by Yuri Sugimoto (Research Project Collaboration Division)
Photos by Seiji Narita (Public Relations Office, Planning Department)