Home

>

Mekong River watershed: reporting from the front line of climate change "adaptation strategies"
2019-5-21
Mekong River watershed: reporting from the front line of climate change "adaptation strategies"
NIES International Forum Report, Part 3
The Mekong River, one of Asia's key international waterways, is currently facing various issues caused by environmental changes. How can these issues be tackled?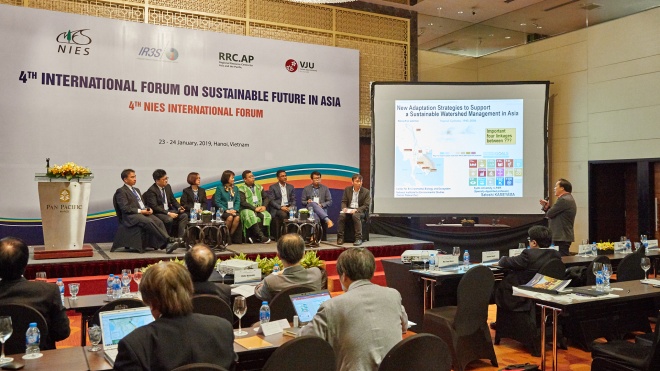 Session 2 panel discussion. Presenters from various countries of the Mekong River watershed participated in the discussion.
Session 2: New strategies for adaptation of the Mekong River watershed to environmental change
The Mekong River watershed is suffering from a wide range of environmental changes, including the impacts of climate change and dam constructions. The session included presentations on changes in mangrove ecosystems, spatial data observation methods for monitoring environmental change, and assessment of the impacts of dam constructions.

The session was far-ranging, covering a multitude of topics from observation of environmental change to real-world initiatives. In addition to physical science topics, presentations also introduced social science approaches to dealing with the impacts of climate change, including a practical example on the use of open data to promote discussion and decision-making in Cambodia.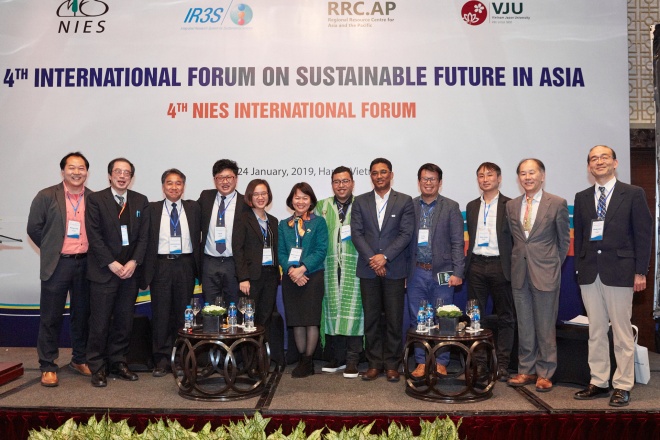 Session 2 participants included presenters from the five countries of the Mekong River watershed.
One of the participants in the panel discussion commented on the need for government policies to reflect the views of local people living in the watershed and suffering the impacts of environmental change. Other participants also stressed the importance of strengthening the network of experts and collaborating on the provision of information for policymaking. In this regard, this year's Forum served as an opportunity for experts from the countries of the Mekong River watershed to forge ties.

In the next report, we will introduce Session 3, which focused on improving public health through environmental research.

Written by Yuri Sugimoto (Research Project Collaboration Division)
Photos by Seiji Narita (Public Relations Office, Planning Department)