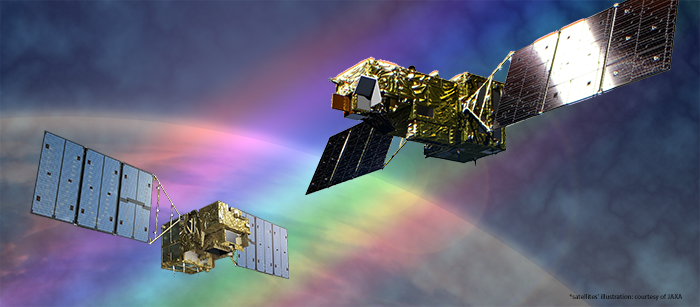 GOSAT Series
Research Announcements

The Greenhouse gases Observing SATellite (GOSAT) has been observing global atmospheric greenhouse gases steadily even today, in the ninth year since its launch in January 2009. The successor, GOSAT-2 will also be launched in 2018. As for research announcement (RA), we have issued eleven times to solicit research proposals using GOSAT data since 2008. This time, the RA for the research utilizing both GOSAT and GOSAT-2 data entitled "the Greenhouse Gases Observing Satellite Series Research Announcement (GOSAT RA)" was issued anew. If you plan to conduct research using GOSAT and GOSAT-2 data, please read the following documents carefully and send your research proposal and application documents to the GOSAT RA Secretariat by the due date. We are really looking forward to receiving your original proposals.
Schedules for the GOSAT RA
Issuance of research announcement: Thursday, September 21, 2018
Application deadline: Tuesday, November 21, 2018
New application deadline: Friday, November 30, 2018
Notification of selection results: Monday, June 3, 2019 and later

We appreciate all the researchers who submitted their research proposals in response to the first Research Announcement on Greenhouse gases Observing SATellite Series (the 1st GOSAT RA). All proposals were evaluated by the GOSAT RA Selection and Evaluation Committee, and we would like to inform you that the Japan Aerospace Exploration Agency (JAXA), the National Institute for Environmental Studies (NIES), and the Ministry of the Environment of Japan (MOE) have jointly decided to adopt 37 research proposals to carry out joint research based on evaluations by the committee. Listed below are the adopted 36 proposals except the one canceled after the adoption from unavoidable circumstances.
Principal Investigator
Research Organization
Research Theme
Calibration
Santiago Gassó
Earth System Science Interdisciplinary Center, University of Maryland (USA)
Evaluation of the UV channels in the CAI/CAI-2 sensors in GOSAT/GOSAT-2 with the Ozone Monitoring Profiler Suite-Nadir Mapper
Data processing algorithms
Yu Someya
Center for Global Environmental Research, National Institute for Environmental Studies (Japan)
Retrievals of CFC-11 and CFC-12 from the GOSAT-2 thermal infrared spectra
Thomas Wagner
Satellite Remote Sensing, Max Plank Institute for Chemistry (Germany)
Non-standard cloud products: Determination of cloud properties and photon path length statistics
Naoko Saitoh
Center for Environmental Remote Sensing (CEReS), Chiba University (Japan)
Studies on atmospheric minor constituents and polar stratospheric clouds retrieved from thermal infrared spectra of TANSO-FTS
Hartmut Boesch
Department of Physics and Astronomy, University of Leicester (UK)
Retrieval methods for greenhouses gases to study the surface-atmosphere exchange
Itaru Sano
Kindai University (Japan)
Estimation of aerosol properties based on combined use of multi-satellite data
Nawo Eguchi
Research Institute for Applied Mechanics, Kyusyu University (Japan)
Retrieval of cirrus cloud parameters from TANSO‐ FTS spectra and investigation of global cirrus cloud variations
André Butz
Institute of Environmental Physics, University of Heidelberg (Germany)
Retrievals of atmospheric CO2 from GOSAT observations based on accurate vector radiative transfer modeling of scattering atmospheres
Hannakaisa Lindqvist
Space and Earth Observation Centre, Finnish Meteorological Institute (Finland)
The impact of aerosol and cloud scattering on greenhouse gas and SIF retrievals from GOSAT and GOSAT-2
Mikhail Yurievich Kataev
Tomsk State University of Control Systems and Radio Electronics (Russia)
Research of the non-parametric methods for processing measurement data of the FTS GOSAT and software applications development
Carbon balance estimation, atmospheric transport models
Paul Palmer
School of GeoSciences, University of Edinburgh (UK)
Towards an improved understanding of the tropical carbon cycle, including an improved knowledge of CO2 and CH4 source attribution.
Takashi Maki
Meteorological Research Institute, Japan Meteorological Agency (Japan)
Four dimensional data assimilation of GOSAT observation data using a local ensemble transform Karman Filter
Ray Nassar
Environment and Climate Change Canada (Canada)
Quantifying carbon fluxes from local to global scales
Tuula Aalto
Finnish Meteorological Institute (Finland)
GHG balances using remote sensing, FTIR spectroscopy, In situ measurements, atmospheric inverse modeling and earth system modeling
Validation
Michael Buchwitz
Institute of Environmental Physics, University of Bremen, FB1 (Germany)
Towards CONsistent long-term SCIAMACHY and GOSAT greenhouse gas data sets (CONSCIGO)
Takashi Sugita
Center for Global Environmental Research, National Institute for Environmental Studies (Japan)
A comparison study on CH4 column amounts derived from TANSO/FTS, aircraft, and stratospheric limb observations
Kimberly Strong
Department of Physics, University of Toronto (Canada)
Validation of GOSAT and GOSAT-2 SWIR and TIR data products using ground-based and satellite measurements
Yutaka Matsumi
Institute for Space–Earth Environmental Research, Nagoya University (Japan)
Validation of GOSAT FTS and CAI using compact instruments
Nicholas Deutscher
Centre for Atmospheric Chemistry, University of Wollongong (Australia)
Validation of NIES retrieval of GOSAT-2 XCO using TCCON ground based measurements (Validation of satellite-based SWIR XCO in the southern hemisphere, and assessment of its spatial and temporal variability)
Sébastien PAYAN
LATMOS, Sorbonne Université & CNRS (France)
Calibration and validation of GOSAT-2 in the TIR bands using IASI
Makoto Abo
Faculty of Systems Design, Tokyo Metropolitan University (Japan)
Validation of the SWIR/TIR products using temperature and gas concentration profiles by the ground-based differential absorption lidar
Yi Liu
Institute of Atmospheric Physics, Chinese Academy of Science (China)
GOSAT-2 (GOSAT) validation in China
Rigel Kivi
Space and Earth Observation Centre, Finnish Meteorological Institute (Finland)
Validation of GOSAT and GOSAT-2 measurements at Sodankylä, Finland
Data Application
Mukunda Gogoi
Space Physics Laboratory, Vikram Sarabhai Space Centre, Indian Space Research Organization (India)
Assimilation of space-borne CAI-2 aerosol retrievals in conjunction with ground-based point measurements over south Asia for advanced quantitative information and improved understanding of the radiative implications of aerosols.
Makiko Nakata
Kindai University (Japan)
Estimation of properties and emissions of atmospheric aerosols based on the GOSAT/CAI data
Sachiko Hayashida
Faculty of Science, Nara Woman's University (Japan)
Analysis of GOSAT methane data to characterize the methane source from rice paddies in Asia
Ricaud Philippe
CNRM, Météo-France/CNRS (France)
N2O sources estimated from GOSAT-2 observations
Lim Hwee San
School of Physics, Universiti Sains Malaysia (Malaysia)
Regression analysis in modeling of carbon dioxide and factors affecting its value in Peninsular Malaysia
Juying Warner
University of Maryland (USA)
Distributions and trends of N2O and CH4 from GOSAT-2 compared with other international hyperspectral sensors – GOSAT, AIRS/CrIS, IASI, and HIRAS
Voltaire A. Velazco
Centre for Atmospheric Chemistry, University of Wollongong (Australia)
Towards tracking the transport of emissions over the tropical western Pacific using GOSAT and GOSAT-2
Shamil Maksyutov
Center for Global Environmental Research, National Institute for Environmental Studies (Japan)
Estimation of the anthropogenic CO2 and CH4 emissions from the spatial concentration distribution around large point sources
Liping Lei
Institute of Remote Sensing and Digital Earth, Chinese Academy of Science (China)
Study on relationship between land use/cover types and spatio-temporal distribution of greenhouse gases in China.
Nawo Eguchi
Research Institute for Applied Mechanics, Kyusyu University (Japan)
Study of stratosphere-troposphere exchange and tropospheric dynamical processes by using the GOSAT data
Yusheng Shi
Institute of Remote Sensing and Digital Earth, Chinese Academy of Science (China)
Biomass burning CO2 estimation from GOSAT observations in different terrestrial ecosystem
Hibiki Noda
Center for Global Environmental Research, National Institute for Environmental Studies (Japan)
Application of solar-induced chlorophyll fluorescence; Estimation of photosynthetic production by terrestrial ecosystem
Ella Kivimäki
Space and Earth Observation Centre, Finnish Meteorological Institute (Finland)
Seasonality and trend of column-averaged methane and its connection to cryosphere in the Arctic

Greenhouse Gases Observing Satellite Series Research Announcement Secretariat, Satellite Observation Center,
National Institute for Environmental Studies
16-2 Onogawa, Tsukuba, Ibaraki 305-8506, Japan Tel: +81-29-850-2966 (10 a.m. - 5 p.m.)
Fax: +81-29-850-2219
E-mail: gosat-prj1[at]nies.go.jp