Range in Japan
Daito Islands, Okinawajima Is., Kagoshima (mainland), Miyazaki, Kumamoto, Nagasaki (mainland), Fukuoka (mainland and Nokonoshima Is.), Hiroshima, Okayama, Awajishima Is., and Wakayama Prefs.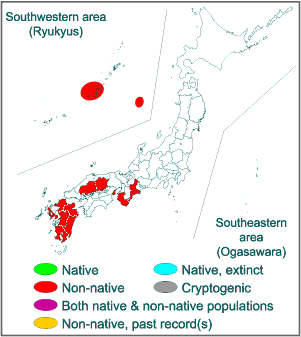 Introduced range in other countries
Taiwan, continental China, Southeast Asia, India, Pakistan, Bangladesh, Mediterranean area (Middle East, Algeria, Egypt, Libya, Malta, Morocco, Portugal, Spain, France, Italy, Greece, Cyprus, Turkey), Madagascar, Australia, Papua New Guinea, Samoa, Solomon Islands, USA, Aruba Is.