Range in Japan
There are records of breeding in Saitama, Chiba, and Kanagawa Prefs., and observation in Kumejima, Ishigakijima, and Yonagunijima Is. Since 1990s, no breeding have been observed. There is a report of sighting at Kumamoto pref in 2019.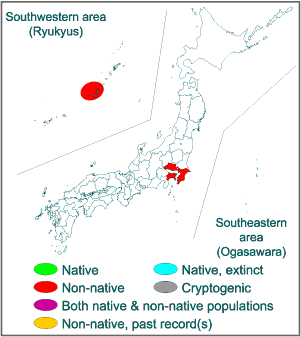 Introduced range in other countries
Borneo, Sumatra, Israel, Lebanon, Turkey, Iraq, UAE, South Africa, Botswana, Zimbabwe, Australia, New Zealand, Papua New Guinea, USA (Florida), Bahama, Cuba, Jamaica, Puerto Rico, Hawaii, Midway, Solomon, New Caledonia, Vanuatu, French Polynesia, Madagascar, Reunion, Mauritius, Comoros, etc.