Home

>

NIES Spring Open House April 21 (Saturday), 2012
2012-3-14
NIES Spring Open House April 21 (Saturday), 2012
International Coordination Office, NIES Planning Department,
National Institute for Environmental Studies
  international@nies.go.jp
The National Institute for Environmental Studies (NIES) is pleased to announce its annual Spring Open House, to be held during Science and Technology Week, on April 21 (Saturday), 2012.
On the day of the Open House, visitors to the institute will have the opportunity to come face-to-face with NIES researchers engaged in cutting-edge research on such environmental issues as climate change; the impact of chemicals of environmental origin; as well as the initiatives of NIES in relation to the disaster zone from the Great East Japan Earthquake. In addition visitors will also have the chance to participate in a variety of interactive activities, which will include the chance to ride Segways and electric bicycles.
Bilingual guided tours of selected facilities will be available. Reception for the tours will start at 10:00. Please complete registration for the tour at least 15 minutes before the start times and assemble at the main reception 5 minutes in advance of the start time.
Place: National Institute for Environmental Studies (16-2 Onogawa, Tsukuba city, Ibaraki 305-8506)

Entrance Fee: Free (Groups of more than 15 persons should contact in advance; Reception closes 15:00)
There is limited parking and visitors are strongly encouraged to come to the event by means of eco-friendly transport such as the Science and Technology Week Free Shuttle Bus, by public transport, etc., rather than using their own cars.

Access
Science and Technology Week Free Shuttle Bus
Exit A5 from TX Tsukuba Station, Seibu Department store (in front of Creo Square Tsukuba)
From Tsukuba Express(TX) Tsukuba Station
Take the bus for Hitachino-ushiku departing from Bus Stop 4, and get off at the National Institute for Environmental Studies (around 10 minutes)
From JR Hitachino-ushiku Station
East exit, Bus Stop 1, take either the bus departing for "Tsukuba Center" or "Tsukuba University Central" and get off at the National Institute for Environmental Studies (around 13 minutes)
Exhibits
There will be panel displays (Japanese only) by NIES researchers on topics such as:
NIES Contributions to Rescue and Recovery Efforts for the Great East Japan Earthquake
Measuring Greenhouse Gases from Space
What Coral can tell us about Ocean Warming
Children's Health and the Environment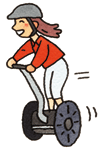 Activities
Test Drive a Segway
Complementary to an ongoing initiative being implemented in Tsukuba's Designated Robot Zone on transportation systems aimed at encouraging Low Carbon Society we offer you the chance to try a Segway (tickets available at reception; must be 16 years or older, other restrictions apply)
Electric Bikes, Display and Test Drive
Generate Electricity by Bicycle
Bilingual Guided Tours
Timetable: 11:00-11:45, 13:00-13:45, 14:00-14:45
(Come to main reception; limited to 20 participants per tour; first-come, first-served)
All visitors to the Spring Open House will receive special NIES mementos, including:
An original NIES Eco-bag
A specially-designed set of NIES postcards (limited to those who participate in survey)
We look forward to welcoming you to the NIES Spring Open House 2012!