Range in Japan
Breedings were recorded in Ibaraki, Tokyo, Kanagawa, Yamanashi, Shizuoka, Aichi, Wakayama, Osaka, Nara, Hyogo, Mie, Fukuoka, Kumamoto, Oita, and Miyazaki Prefs. In addition, distribution records were in Yamagata, Tochigi, Gumma, Saitama, Nagano, Giu, Fukui Prefs., and entire Kinki, Chugoku, Shikoku, and Kyushu Districts.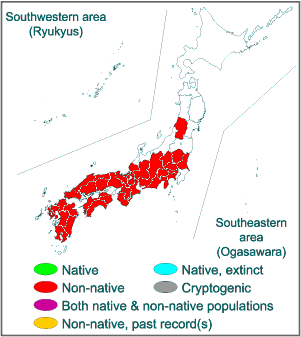 Impact
Competition with native birds. Recent population expansion can large impact on native species. Reduction of native birds Hawaii may partially due to introduced of this species in 1910s to 1920s.
Native organism(s) affected: Native birds such as Zosterops japonicus, Erithacus akahige, Luscinia cyane, Cettia diphone, etc.