Commemorative Lectures by Winners of the Blue Planet Award 2009
The National Institute for Environmental Studies (NIES) is pleased to host the commemorative lectures by winners of the 2009 Blue Planet Award on October 23, 2009. This award recognizes scientific contributions to environmental issues. Winners are invited to NIES every year to address the researchers at NIES and other members of the Tsukuba community.
This year only one of the recipients of the award, Professor Hirofumi Uzawa (Japan) will be able to visit NIES to present a lecture.
Date:

Friday, October 23, 2009

Time:

1:30pm to 2:35pm

Place:

Conference Room (Climate Change Research Hall, 1st Floor) at the National Institute for Environmental Studies (16-2 Onogawa, Tsukuba)

Language:

Japanese only

. There will be no simultaneous interpretation.

Cost:

This event is free but requires pre-registration.
---
The National Institute of Environmental Studies is located on Nishi Odori, just north of the intersection of Nishi Odori and Route 354. (The intersection is named "Inarimae".) From Tsukuba Center, drive south on Nishi Odori, past Minami Odori and Doho Park (which will be on your left). Continue south past the west campus of the National Institute for Advanced Industrial Science and Technology (AIST West) on your right and the Meteorological Research Institute on your left. At the following intersection, turn right (you will see a Coco's restaurant on your left). If you reach Route 354, you have gone too far.
Map:http://www.nies.go.jp/gaiyo/kotu/index-e.html

The Climate Change Research Hall is located inside the NIES Campus. Immediately after you enter the main gate, turn right. Follow the road north. The first building you encounter will be the Climate Change Research Hall. The lecture will be held on the first floor of that building.
Blue Planet Prize
This year marks the 18th awarding of the Blue Planet Prize, the international environmental award sponsored by the Asahi Glass Foundation, chaired by Hiromichi Seya. Two Blue Planet Prizes are awarded to individuals or organizations each year that make outstanding achievements in scientific research and its application, and in so doing help to solve global environmental problems. The Board of Directors and Councillors selected the following recipients for this year. Both recipients will be awarded a certificate of merit, a commemorative trophy and a supplementary award of 50 million yen.
2009 Winners: Professor Hirofumi Uzawa (Japan) and Lord Nicholas Stern (UK)
See: http://www.af-info.or.jp/en/blueplanet/doc/prof/2009profile-eng.pdf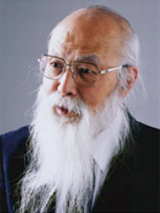 Professor Hirofumi Uzawa ( Japan )
Member of The Japan Academy
Professor Emeritus, The University of Tokyo
Professor Uzawa has analyzed and tackled environmental issues from an economics perspective from an extremely early stage, and as a theoretical framework for confronting problems such as the global warming issue, he has advocated the concept of Social Common Capital, which contributed to pioneering and original achievements.
In addition, he has contributed to the peaceful resolution of the Minamata disease issue and the Narita Airport construction issue, and has been consistent in his work as an economist who confronts the real world with a sincere outlook. Professor Uzawa continues to sound the alarm with respect to contemporary economics and civilization and remains a major influence on both the international stage and in Japan.