Eight Future Issues
We looked at the connections between factors in lifestyle changes and lifestyles that will be mainstream in the future—14 major trends. To these we added significant lifestyle changes from among lifestyles that have latent potential to become major (mainstream)—37 signs for new trends. From the results, we identified "16 lifestyle changes".

Because of the operational limitations of future visioning and questions of efficiency, we summarized themes arising from shared characteristics of the lifestyle changes, factors bringing about the lifestyles, and ways of responding to these factors. Then we defined speculations relating to the eight directions for the future described below (future issues). These future issues are not limited to particular lifestyles; it must be remembered that there will be cases in which individuals will be affected by more than one of the future issues.
1. Will more people be moving away from group dependence and creating lifestyles focused on the self (the individual)?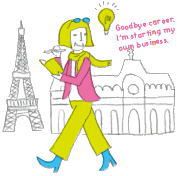 | | |
| --- | --- |
| Location | Urban or suburban |
| The person | A woman aged 51, in a study or experience-supporting community |
| Family | Living with husband (aged 65, provides business support to wife and draws a pension), one child grown up and has become independent |
She started corporate life before the "ice age for job seekers".
Her career had progressed well but, before she hit 50, she decided to start a second life independent of an organization. She is using her knowledge and networks in her areas of interest to launch her business.
2. Will more people be exploiting real and virtual networks to create pleasant communities and run businesses?
| | |
| --- | --- |
| Location | Urban or suburban |
| The person | A man aged 33, director of an NPO |
| Family | A partner and cohabitee (in an informal marriage) who is also active in the NPO |
Since the Great East Japan Earthquake of 2011, community activities such as volunteering and NPOs have increased. People with the desire to do something for society are gathering to live together.
Now, they try to solve problems themselves instead of relying on the government: a new autonomy movement is spreading.
3. Will there be new self-sufficient communities that produce and consume food and energy locally, and people supporting these communities?
| | |
| --- | --- |
| Location | Rural (or suburban where conditions allow) |
| The person | A couple, both aged 42, active in local projects |
| Family | Two children (8 and 5) |
After corporate careers in Tokyo, the couple moved out to Nagano and started the country life they had dreamed of. To achieve a sustainable lifestyle that is better for the environment and not wasteful of resources, they try to produce and consume food, energy, etc. locally.
4. Will a better work–life balance (work-sharing) be enabled by flexible and diverse modes of working (part-time working, side jobs, etc.)?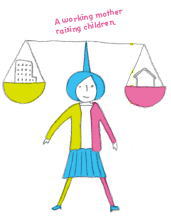 | | |
| --- | --- |
| Location | A large city |
| The person | A woman aged 34, an employee who works reduced schedule (a professional in a medium-sized enterprise) |
| Family | A husband aged 38 (also works reduced schedule) and two children (6 and 4); the couple's parents live in the countryside |
Arrangements such as reduced working schedules have become normal and more families are achieving a good work–life balance. It may be that 1+1=1.5 in financial terms and there is little room for complacency, but couples actively engage in housework and child rearing and enjoy fulfilling daily lives.
5. Will there be more people who lack opportunities to improve the skills they need for work and are forced into job-hopping between unskilled jobs?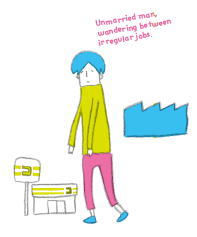 | | |
| --- | --- |
| Location | Urban, suburban, rural, anywhere |
| The person | A man aged 27, doing temporary jobs in sales, retail and factories |
| Family | Living with mother (aged 54, in part-time work) |
With his mother's help, he graduated from a public university but his job hunt was unsuccessful. He moves between temporary jobs in convenience stores, factories, etc. Now his only pleasure is a community website where others in the same situation congregate.
6. Will there be more people who have given up on relationships and are trapped in social isolation?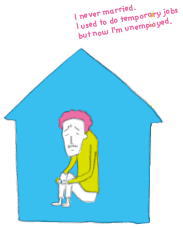 | | |
| --- | --- |
| Location | Urban or suburban |
| The person | A man aged 48, who lost his last temporary job two years ago |
| Family | None; has not seen his parents in the countryside for almost ten years |
He has never married and has had an irregular succession of temporary jobs. On many days, both holidays and weekdays, he talks to nobody at all. He uses digital social networks but does not express his real feelings on them. He feels more isolated every day and he is overwhelmed with sadness when he thinks of his old age.
7. Will there be more cases of carers, exhausted and overcome with stress, falling into despair?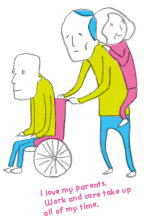 | | |
| --- | --- |
| Location | Urban, suburban, rural, anywhere |
| The person | A man aged 56 with a permanent job |
| Family | Father, 83, no longer able to walk and mother, 79, rendered helpless by dementia |
He is single and lives with his elderly parents. One day, unable to cope with nights of caring followed by days of work, he runs away (abandoning his care role). Even if he returns to work later, his salary will be cut for taking unauthorized leave. His economic prospects are poor.
8. Will people who ignore the many changes in life and society and continue to live a improvident consumer lifestyle look out of place?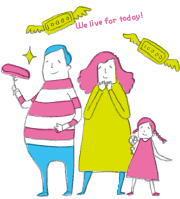 | | |
| --- | --- |
| Location | Urban or suburban |
| The person | A husband, 38, in permanent work and a wife, 37, in part-time work |
| Family | A daughter aged five; the grandparents are in good health and live less than an hour away |
A husband and wife whose parents lived through the bubble of the 1980s. Even in difficult employment conditions, he has been successful in finding desirable work. The most important things for them are pursuing their interests and meeting their friends, which they do to the full. They are optimistic, believing that if problems arise they will overcome them somehow.