Home

>

Low Carbon City Design using Asia-Pacific Integrated Model (AIM) - How to develop low carbon city climate change action plan using AIM and forthcoming challenges -
2014-12-22
Low Carbon City Design using Asia-Pacific Integrated Model (AIM) - How to develop low carbon city climate change action plan using AIM and forthcoming challenges -
Japan Pavilion, December 9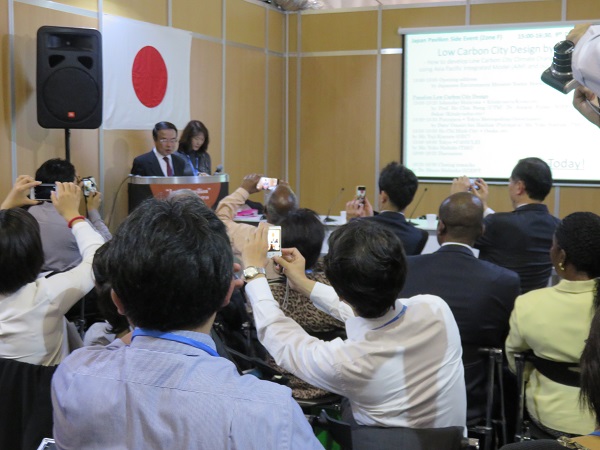 The National Institute for Environmental Studies (NIES) was the main organizer for this event, held at COP20/CMP10 in Lima, Peru on December 9, 2014 to introduce city-level low carbon activities, in particular those based on AIM model simulations, with the aim of providing a comprehensive picture of the low carbon society and associated implementation plans for the respective regions concerned. The event specifically focused on the examples of the Iskandar Malaysia Region, Putrajaya City (also in Malaysia), and Ho Chi Minh City, Vietnam. The presenters at this event included both researchers and regional urban policymakers. While researchers from NIES and the University of Technology Malaysia (UTM) presented on ways in which scientific research outcomes could be integrated into actual regional governmental development planning towards the achievement of low carbon cities, policymakers from Kitakyushu City, Osaka City/Global Environment Center Foundation (GEC), Putrajaya city and Tokyo Metropolitan Government (TMG) gave an overview of their particular activities towards the realization of low carbon cities and of city-to-city cooperation among Iskandar Malaysia, Putrajaya City, and Ho Chi Minh City. The means by which implementation actions would be disseminated and adopted in the three cities was also discussed. Low carbon projects in Osaka City; monitoring and CO2 reporting systems for buildings in Tokyo Metropolitan; and an Eco Life Challenge program focused on primary schools in Kyoto City where presented as exemplars for such initiatives. A version of the latter program has already been successfully implemented in the Iskandar Malaysia region.


At this event, Yoshio Mochizuki, Japan's Minister of the Environment took time out of his busy schedule to deliver an opening address which noted the significance of this event. Minister Mochizuki emphasized that:

"It is necessary to implement initiatives at local government as well as national government levels, in order to address climate change. This event has provided a valuable platform at which to share knowledge and experiences towards the development of low carbon societies in Japan, Malaysia, and Vietnam. I hope that such knowledge will be shared and spread to other Asian countries and to countries throughout the world".

For Iskandar Malaysia, Prof. Ho Chin Siong, UTM, first presented on the progress of the "Low Carbon Society Blueprint for Iskandar Malaysia 2025", which has been developed collaboratively among UTM, NIES, Kyoto University, and Okayama University under the Science and Technology Research Partnership for Sustainable Development Program (SATREPS) funded by Japan International Cooperation Agency (JICA) and Japan Science and Technology Agency (JST). This has been used to implement the blueprint in collaboration with a wide variety of stakeholders, including the Iskandar Regional Development Authority (IRDA). Prof. Song also introduced the latest research outcomes of low carbon society scenarios and the associated proposals for action plans for the five Municipalities in the Iskandar Malaysia region. Subsequently, Dr. Junichi Fujino from NIES shared information on activities aimed at facilitating awareness of "the Iskandar Malaysia Eco-Life Challenge". This was developed based on the "Children Eco-life Challenge", an environmental education program for elementary school children implemented by Kyoto City and the Kiko Network, a non-governmental organization dedicated to providing solutions to climate change. This was followed by an overview of the Kitakyushu Model to promote Kitakyushu's city-to-city cooperation toward a "Green and Healthy City" in Pasir Gudang of Iskandar Malaysia, in line with the Low Carbon Society Blueprint for Iskandar Malaysia 2025, presented by Mr. Hironori Sakai of Kitakuyshu City.


Mr. Yuji Kimura from GEC, presented on a Ho Chi Minh City – Osaka City cooperative project to develop low carbon cities under the Joint Credit Mechanism (JCM). Cooperative activities introduced included the development of a Ho Chi Minh City Climate Change Action Plan 2020 and the associated implementation plans to be accomplished through public-private technical cooperation by Okasa City, GEC, and private companies, as well as with Ho Chi Minh City.


Dato' Omairi bin Hashim, Vice President (City Planning), Putrajaya Corporation introduced the milestones towards Putrajaya Green City 2025, focusing especially on a "Bikeable City" scheme as well as plans for reduction of energy consumption in buildings. He explained that Putrajaya's sustainable development 2025 plan had been specified in line with Putrayama Green City 2025, developed with the quantitative analysis method used by AIM. According to the inventory of greenhouse gas (GHG) emissions for 2013, GHG emissions were highest in the building sector at 72% (953 kt CO2eq); followed by the transportation sector at 24% (312 kt CO2eq); and solid waste sector at 4% (51ktCO2eq). Dato' Omairi announced that Putrajaya had therefore committed to conducting programs and measures targeted at the reduction of energy consumption in buildings with the AIM team and TMG.

Ms. Yuko Nishida from TMG highlighted low carbon initiatives being implemented in Tokyo Metropolitan. Her presentation included an overview and introduction of the outcomes to date of the Tokyo Cap-and-Trade Program, Tokyo Green Building Program, and Carbon Reduction Reporting. She also presented Tokyo's international collaborative work among cities, such as the International Council for Local Environmental Initiatives (ICLEI) Local Governments for Sustainability Program, and the C40 Cities Climate Leadership Network. Finally, she commented that TMG was ready to support Iskandar Malaysia and Putrajaya City in making use of TMG's knowhow, and key factors for program design for reporting programs of the building sector.

At the panel discussion, speakers shared information on the key points for implementing low carbon development plans in each city in light of scientific knowledge, actual experiences, and lessons learned on the ground. They pointed out the necessity to nurture trust and credibility through communication with various stakeholders, learning from respective city's activities through city-to-city cooperation, and the introduction of low carbon technologies.

Finally, Dr. Shuzo Nishioka, the secretary general of Low Carbon Asia Research Network (LoCARNet), and an IGES Fellow, concluded that this event had reaffirmed the necessity for policy development based on scientific knowledge, as well as the necessity to develop knowledge-sharing in the Asian region.