Home

>

Transition to Low-Carbon Resilient Societies: from Theory to Reality
2013-11-26
Transition to Low-Carbon Resilient Societies: from Theory to Reality
NIES/IGES-hosted LCS-RNet Side Event, Japan Pavilion, November 19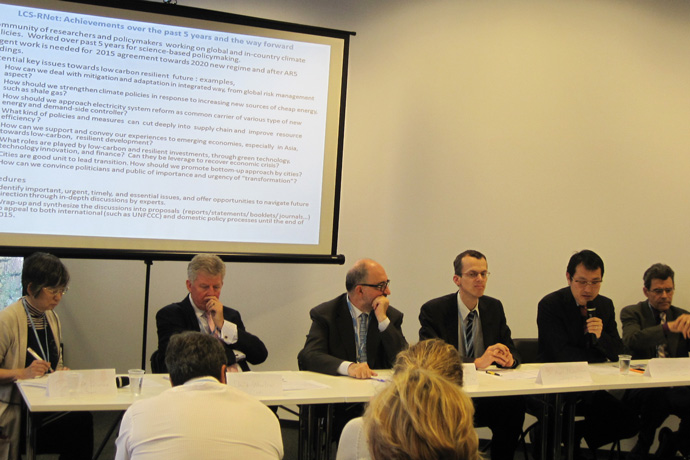 On November 19 (Tuesday), the National Institute for Environmental Studies (NIES) and the Institute for Global Environmental Strategies (IGES) co-hosted the International Research Network for Low Carbon Societies (LCS-RNet) Side Event entitled "Transition to Low-Carbon Resilient Societies: from Theory to Reality" in the Japan Pavilion of COP19/CMP9. In addition to reporting on the outcomes of the LCS-RNet 5th Annual Meeting held in July 2013 in Yokohama, discussions were held on how activity should be continued with the end of the 1st LCS-RNet phase in March of next year into the forthcoming 2nd phase, and what topics required particular attention. NIES serves as the focal point for Japan's participation in LCS-RNet.
At this event, following Opening Remarks by Junichi Shiraishi, Vice-Minister for Global Environment at the Ministry of the Environment Japan, Mikiko Kainuma, a Fellow from the Center for Social and Environmental Systems at NIES, and Sergio La Motta from the National Agency for New Technologies and the Environment (ENEA), Italy reported on the LCS-RNet 5th Annual Meeting held in Yokohama in July 2013 as co-chairs of that meeting. Subsequently, Jean Charles Hourcade from the International Research Center on Environment (CIRED), France delivered a Special Report on "Triggering Finance for a Low-Carbon Transition".
This was followed by a Round Talk "Towards Low-Carbon Transition, What We Can Learn from Different Approaches Taken in Different Countries, What are Common Agendas to Address" facilitated by Mikiko Kainuma. At the beginning of the Round Talk, Shuzo Nishioka, Secretary General of LCS-RNet gave an overview of several points requiring future discussion, and indicated his expectations to deepen discussions around these issues. Policy-makers and researchers from the UK, France, Italy and Switzerland and Junichi Fujino, Senior Researcher from the Center for Social and Environmental Systems Research then conducted a lively exchange of opinions between each panelist and the audience.