Range in Japan
Established in Tonegawa and Edogawa River System, Kasumigaura and Kitaura Lake. Despite no establishment in other region, routinely released to rivers, lakes, ponds in wide area of Honshu, Shikoku, and Kyushu Islands.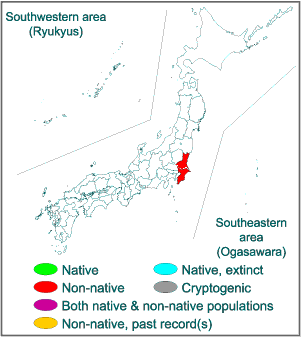 Introduced range in other countries
SE Asia (Myanmar, Vietnam, Indonesia,etc.), S Asia (India, Buhtan,etc.), C Asia (Kazakhstan,etc.), W Asia (Afghanistan, Iraq, Jordan, Turkey,etc.), Europe (Finland, Germany, Czech, Italy, Belarus, Russia,etc.), Africa (Cote d'Ivoire, Egypt, Morocco, Ethiopia,etc.), USA, Mexico, C America (Costa Rica, Puerto Rico,etc.), Argentina, New Zealand, etc.